Patrick Dumas
Patrick Dumas
(August 1,1985 / Milford, CT)
Biography of Patrick Dumas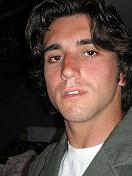 Patrick currently lives in Northridge CA and studies Communication Disorders and Sciences at Cal State Northridge to become a speech pathologist. Aside from writing, he also has a passion for music and plays guitar and piano.
War Lord
May God guide every bullet
to my enemy's death.
May my trigger finger stay strong
'till there is not a slug left.

May the Lord guide my soul into the light
if I am to come face to face with death tonight.