Biography of Patrick Moloney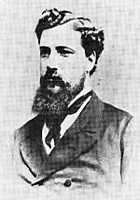 Moloney, Patrick.
Born in Hawthorn, Victoria, Australia in 1843. Educated at St. Patrick's College, Melbourne; graduated M.B., Melbourne University, 1867. He worked as a medical practitioner. Published one poem under the pseudonym 'Australis'.(Bertram Stevens, An Anthology of Australian Poetry, 1907 p.284)

Married Miss Quirk of Carlton (Vic.). Died at Ulverstone, Eng.,
September, 1904.
Sonnets - Ad Innuptam
I
I MAKE not my division of the hours
By dials, clocks, or waking birds' acclaim,
Nor measure seasons by the reigning flowers,
The spring's green glories, or the autumn's flame.
To me thy absence winter is, and night,
Thy presence spring, and the meridian day.
From thee I draw my darkness and my light,
Now swart eclipse, now more than heavenly ray.