Pijush Biswas
Pijush Biswas
(12 July,1988 / Srirampur, Nadia, West Bengal, India)
Biography of Pijush Biswas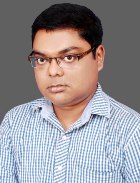 Pijush Biswas was born on 12 July,1988 at Srirampur, Nadia in West Bengal.He has great interest in writing poems both in English and Bengali languages.By one decade he has been pursued widely on this educational ground.He is the only son of his parents.His father's name is Manoranjan Biswas, was a business man and mother is Papi Biswas, a home-maker.Pijush's poetic career began with a influence on his personal love-life.He began writing since October,2012.

Childhood:

He was brought up in an adjoining family since he was born in 1988.Though he was alone by his parents, he took great share of life with his cousins for about 15 years.He was very shy in nature and always refused to take part in different programmes, yet he was quite good in study.His childhood mostly spent in Srirampur, Nadia, West Bengal at his father's home.

Education:

Pijush went to " Rajarmath R.K.A High School(H.S) " in his school life where he continued his study till 2005, and passed Madhyamik and Higher Secondary respectively
in 2003 and 2005. He earned Graduation under " University Of Calcutta" in 2008 from " Dinabandhu Mahavidhyalaya, Bongaon" where he continued to go for three years.He was Graduate with English language.Hence he travelled about 1000 km. by train to take admission in an eminent college under " C.S.J.M. University, Kanpur" for his Post-graduation in 2010.There he was Post-graduate with English language with some difficulties, though it was completed.

Present Life:

Having got services in a govt. aided school in 2013 he was shifted to Malda, West Bengal as professional where he has rented a little home to stay.There he lives with his mother as he is unmarried and father is recently died on 25 December,2015.
New Poems
Two Mynas I Used To See
Two house mynas quarrel on the courtyard
Mother says 'stop them, let them not go out
Of the house'; and explains oft them as auspicious birds.
'Go Go! yet full-throat'd I shout.
Neither they hear, nor they fly up
Stolid, indifferent they are in altercation!
And press they one-another's cope
So dangerous the battle, so dreadful the vision!