Pijush Biswas
Pijush Biswas
(12 July,1988 / Srirampur, Nadia, West Bengal, India)
Biography of Pijush Biswas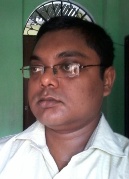 *E-MAIL ID:

mypoems_read.world@yahoo.com

*ABOUT ME:

Hi, this is Pijush Biswas.But there are some people who love me very much and call me as 'Brother'.I respect them too.I must say I've got lot of inspiration from them in my life, to prove myself as a good student and even now as a poet.I'm grateful to them, and will remain forever.I hope I'll be getting such continual inspiration from them.

But, in professional purposes I had to leave Srirampur where I was born and settle at Gazole.Coming here in this new place gradually I became acquainted to new people.Also here people love me and I respect them.

*EDUCATION AND CAREER:

As a student I was quite good.In my school life I stood 1st for several times in different classes.I passed Madhyamik Exam in 2003 and Higher Secondary Exam in 2005.Later I became graduated under University Of Calcutta in 2008 and Post-graduated under Chhatrapati Shahu Ji Maharaj University, Kanpur in 2010.

Now I'm a High School Teacher.As a teacher I'm trying my best to be successful in life.

*EVENT IN BOYHOOD:

When I was aged 15, I fell in love with a girl.I loved her so much.But with changing years we also became changed in heart and mind.So later both of us sought love in other and became detached.Perhaps now that girl is married to another, though I'm unmarried.

*WORKS:

I've already written many poems and short-stories, though they are not published.But I'm taking preparation in my mind and trying to arrange all my manuscripts as soon as possible.I hope I'll be able to publish all my works very soon.Let's see how far you love them.
New Poems
Little King
So little king you are
People will find you, somewhere in the war
You would be forever in their mind
Lets me tell 'You are quite little, but in heart kind'
Will remain ever and ever things done by you
I know, never it would be few.

Your name must bring to you fame
Feel I, whenever watch I your game.