Pijush Biswas
Pijush Biswas
[Blue Sky] (12 July,1988 / Srirampur, Nadia, West Bengal, India)
Biography of Pijush Biswas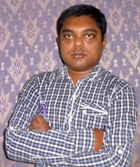 Only being a person who had already faced different dimensions and faces of surrounding I have now become a poet.Lot of things happened to me have become a lesson to my life.I, many times, went through situations which did not give accompany to me, so I was severally battered and shattered by them.Yet, being quite liable to believe in the God I tried many to conquer those.Its not like that I never had situations which did not favour.So, I, as being a mere person to my surrounding always try to make happy all there and myself.Only when people come rude at my works done not so clearly I sometimes be somewhat upset, although there are some who now make me realize how it could have been.As I went through some tough situations even now some of my well-wishers are created whom I greatfully responsible and grateful to.
Life is a stage where men and women come to perform their multi-colored days.It may be someone now going through bad or worse, but I must say there is a time for everyone bound to be good.Similarly I took my early days and effectively I have got it.Now I have no questions to those who once gave me hurling and hitting words.Now I feel and swear that even their caricatures and manipulations were so valuable although little then, but now greatly realized by me.If I describe my early days' life it would be so short, but I am quite interested to do it.Perhaps, you don't know I fell in a love when I was 15 years old.I fell in love with a girl who came from a aristocratic family.Many of my surrounding people considered me undeserved to her.Once she took angry and for a several times when I tried to meet her and was eager to see her for at once, I did not have no chance to meet her again.I weeped and I weeped.I am weeping still now, as I have no lover-girl thence.It is a great shock to me, and now I keep myself far away from such relation.As far as I could, is that I made her realize that love her really and she came twice at our home.Now I remember those days when she and I, we together made stories sitting at a field under open sky.It is love which have great impression on my life and I can not get out of it.I must say- - all, that I had lost or gained, were all because of love.So, I must say- -" If there is no love, there will be no hate;
and there are two kinds of people within whom one attain from love and one attain from hate" .And I am waiting for your consideration at what I am.
Two Mynas I Used To See
Two house mynas quarrel on the courtyard
Mother says 'stop them, let them not go out
Of the house'; and explains oft them as auspicious birds.
'Go Go! yet full-throat'd I shout.
Neither they hear, nor they fly up
Stolid, indifferent they are in altercation!
And press they one-another's cope
So dangerous the battle, so dreadful the vision!