p a noushad
p a noushad
(4 may 1971 / pathirippatta, kozhikode, kerala, india)
Brook - Poem by p a noushad
Three streams that set out
before history
the stream of love
the stream of dreams
and the stream of tears
epics were born on their banks
they will flow wanderlust
till the last breath
of the last living.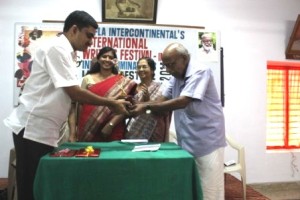 Topic(s) of this poem: art
Comments about Brook by p a noushad
Vidyadhara .....

(11/18/2009 10:47:00 PM)


Lot of subject in few lines well said................... (Report) Reply

Sandhya S N

(7/30/2009 4:59:00 AM)


Yes...brilliant
congrats for seting a dep menaing in short lines
regards
sandhya (Report) Reply

Obinna Eruchie

(6/5/2009 11:48:00 AM)

Jonathan Horwitz

(3/20/2009 3:37:00 PM)


You just get right to the is-ness. No moaning, but rather fascination with Life and all that 'Life' means at its center. You poems help to keep the eyes of the soul wide open. Thank You again! (Report) Reply

Ashraful Musaddeq

(9/11/2008 1:51:00 AM)
Read all 6 comments »
Read this poem in other languages
This poem has not been translated into any other language yet.
I would like to translate this poem »
Poem Submitted: Wednesday, May 7, 2008
Poem Edited: Tuesday, March 10, 2015
p a noushad's Other Poems