Pranab K. Chakraborty
Pranab K. Chakraborty
(West Bengal)
Biography of Pranab K. Chakraborty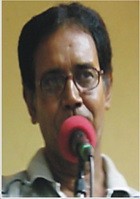 Human Being who believes in Humanity. In regional language Bengali, writes by the name Pranab chakraborty. He also known as Apoet Bangla.

Pranab K. Chakraborty's Works:

Editor of a Bengali little magazine 'INTERACTION Bhasha-o-bhavnaar', published from Nabadwip, Nadia, West Bengal, India.
Four Books of poems.
One of Verse-drama.
Two Novels.
About twenty manuscripts of drama performed by the local groups but not published one yet.
A Thief If An Old Woman
If an old woman
involves herself
in theft
it becomes very cruel
to punish her
because
she is
firstly like a grandma
secondly
her rebirth
like an infant
should be considered
similiarly, if an old man...