ramesh rai

(13.12.1955 / howrah)
Biography of ramesh rai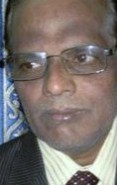 I have composed a poem with title 'The Hymn of Mercy'. It is a long poem.I composed this poem just on the night when buddhas statue was destructed in afghanistan. My office colleague Shri Joydeep Mukhuty at Asansol first read it and commented that after geetanjali he was reading my poem. this inspired me and kept it safely. I would like to put the whole poem in a piecemeal so that reader may not feel bore. Though I have also composed several poems in hindi, bhojpuri, bengali and english. But I have kept it very safely.

regarding my biography I would like to edit more about myself. I am already getting good appreciation, your love and affection which inspire me to create more and more poems.I do expect only your love and friendship.My e-mail id is rkrai100@gmail.com.I have been composing poems since childhood and were thrown to dustbin saying it is of no use to mankind. But now I can realise that only poetry can do every thing. it can change the life, it can change the society. Despite of acute pressure of my office work, i spare few of my time for poems. when i posted my poems i got good appreciation which inspired me to compose more and more poems. I am very much grateful to my all frnds who have been sparing their valuable time to read and comment on my poems. Really too much obliged. God may bless them and their family. I like to pay my humble regards and best wishes to all my readers for reading my poems which inspires me to compose more and more poems. May God bless him/her with love and peace.My facebook id is rkrai100@gmail.com. I must like to convey my heartiest thanks to all my readers and well wishers for reading, commenting on my poems and appreciation.I read poems of my other poet frnds and i appreciate their contribution. i feel pity for not sparing sufficient time for them. but i love my all poet frnds. bcoz i know they all are doing without any expectation for returns. i wish them all for a bright and peaceful life. i like to urge all youngster and new comer to go on writing. it will be a great achievement for the entire human society. they must not think what they will get in return. It is my dream to publish a poetry magazine 'POETRY WORLD' AND IT IS UPTO GOD TO FULFILL IT.my twitter account is @ rameshrai13. My Photographs is also available there. My frnd. you will always think that I have read your poem and I find your creation Xlent, Superb, beautiful............... and keep writing. I love my P H family. My postal address is 16/2 - Kailash Banerjee Lane Howrah - 711 101 (West Bengal) India.This is my strong advice to all youngsters that they should never think whether they will get any comment or appreciation or not.never think so. u do ur job. create more and more beautiful poems and one day u will touch the heaven.i have been composing poems since my childhood but none inspired me rather i was told, ur poetry can not give u bread, it may be true but only the poetry can lead the life and make it perfect otherwise life will be worst than animal. so carry on my youngster and i know creating poetry is much more difficult than creating prose becoz in poetry u have to express ur full thoughts within few lines which is not in prose.i wold never advise that you keep ur other job and study aside and do poetry but whenever u get spare time, devote it for creation of poetry. I shall feel glad if any of my reader may kindly indicate or point out any correction or deviation in opinion. As on 13.3.2013, I have not published any book.

ramesh rai's Works:

I m preparing for publication of collection of my all poems.
New Poems
The Mighty Sword
The Mighty Sword
My dear Friends
What do you think?
Why do you think?
God has given you the Mighty Sword
No atomic power can destroy your sword
Quick! Hold up, get a-head
The time will teach you
How to use and when