Ramesh T A
Ramesh T A
(28th August 1950 / Madurai, Tamil Nadu, India)
Biography of Ramesh T A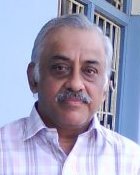 Born on 28th August 1950, native of Madurai, Tamil Nadu, the Author T.A. Ramesh is educated and living in Pondicherry, India. Though an undergraduate in Physics, he is a postgraduate in English Literature and Personnel Management as well. After working as an industrialist in Sri Lakshminarayana Industries, Pondicherry for 22 years, he is occupied in writing poems and essays since 1989 and is publishing books from 1996 on.

He has written Poetry books like Dreams, Ideas and Realities; The Vision of Life; Soaring High to Sublimity; Pearls of Micro Poetry; Gems of Human Life; The World of Man; Human Life; World Life; Dreams And Realities Of Life; The Game Of Life, The Life of Man, Life of The World, World Peace and New Poems so far; 2 Non-Fiction books, The Creation of One World; and One Human World and one Novel, The Halo Dreams.

His first Poetry Book, DREAMS, IDEAS AND REALTIES was published by Minerva Press, India in 2000. His Non-Fiction book, THE CREATION OF ONE WORLD was published by The Halo Papers, India in 2000 and as E Book by www.lulu.com in Feb.2010.

From 2005 he is occupied in publishing his poems and articles on internet. Along with 33 dignitaries who have made achievements in various fields, T.A. Ramesh was also awarded as the Best English Book Author by the Sourashtra Community Welfare Chamber at Madurai, India on 20th March 2005.

He has been selected as one of the 30 poets filtering from 2150poets scrutinized and unanimously approved by 100 world Editors for publishing their poems in www.theenchantingverses.co.nr as well as in The Enchanting Verses International magazine of May 2008.

He is also selected as an Indian Executive Committee Elite member for the forum, United Minds For Peace Society, www.umfps.co.cc in January 2009.

He is one of the 100 members in the Hall of Fame of www.rediff.com since 2008 on. His Poetry Videos like Colourful Flowers and Water of Life are released by www.youtube.com and www.myspace.com in August 2009.

T A Ramesh is elected by poll as the Poet of the Year 2010 in www.CCPOETS.COM. He is the Second Prize Winner in the Workshop # 17 competition on Justice for the year 2010 in www.boloji.com.

Special Commendation Award for Writer in English is presented to Shri.T.A.Ramesh by BVK Foundation under Sourashtrian Achievers Award on 11th August 2013 in SITCON 2013 Conference organised by Sourashtra Chamber of Commerce at Raja Muthiya Mandram, Madurai, Tamilnadu, India.

LIST OF BOOKS WRITTEN BY T A RAMESH

Novel:
1* THE HALO DREAMS (1988)
Poetry:
2* DREAMS, IDEAS AND REALITIES (1994)
Non-Fiction:
3* THE CREATION OF ONE WORLD (1997)
Poetry:
4* THE VISION OF LIFE (1999)
5* SOARING HIGH TO SUBLIMITY (2002)
Non-Fiction:
6* One Human World (2003)
Poetry:
7* GEMS OF HUMAN LIFE (23.5.2009)
8* THE WORLD OF MAN (19.7.2009)
9* W O R L D L I F E (10.9.2009)
10* H U M A N L I F E (6.10.2009)
11* D R E A M S A N D R E A L I T I E S O F L I F E (2.11.2009)
12* T H E G A M E O F L I F E (8.12.2009)
13* T H E L I F E O F M A N (5.2.2010)
14* LIFE OF THE WORLD (10.3.2010)
15* NEW POEMS (11.8.2010)
16* RANDOM POEMS (26.10.2010)
17* MODERN POEMS (28.12.2010)
18* W O R L D P E A C E (25.1.2011)
19* POEMS IN VARIETY (3.2.2011)
20* WORLD LOVE LIFE (13.3.2011)
21* WORLD OF NATURE (17.4.2011)
22* DREAMS, ROMANCE AND REALITIES (31.7.2011)
23* ROMANCE, FANTASY AND REALITY (13.9.2011)
24* NATURE, LOVE AND LIFE (4.10.2011)
25* DREAMS AND LOVE UNIQUE! (10.11.2011)
26* BLOSSOMING FLOWERS UNIQUE (5.1.2012)
27* Crops of Ideas (12.2.2012)
28* WORLD OF POETRY (POEMS IN VARIETY)
(21.3.2012)
29* Romantic Poems (7.5.2012)
30* LOVE, LIFE, NATURE POEMS (14.7.2012)
31* ROMANCE AND REALITY OF LIFE (18.8.2012)
32* Nature, Friendship and Changes (16.9.2012)
33* POETIC CELEBRATION (1.11.2012)
34* STORMS, FESTIVALS AND ROMANCE (9.12.2012)
35* Cherished Dreams, Art and Love (16.1.2013)
36* LOVE FOREVER (3.3.2013)
37* ARTS, POETS AND POETRY (14.4.2013)
38* POETRY, LIFE AND ADVENTURE (1.6.2013)
39* CHANGE FOR THE BETTER (9.7.2013)
40* ROMANTIC ADVENTURE AND WORLD LIFE (4.8.2013)
41* FRIENDSHIP, POETRY AND DREAMS COME TRUE (18.9.2013)
42* ART, NATURE AND CULTURE (13.10.2013)
43* KEEP OPTIONS OPEN FOR ONE WORLD (17.11.2013)
44* TRAVEL WITH A SIGH OF RELIEF (27.12.2013)
Micro Poetry:
45* PEARLS OF MICRO POETRY Vol.1 (21.7.2009)
46* PEARLS OF MICRO POETRY Vol.2 (20.10.2009)
47* PEARLS OF MICRO POETRY Vol.3 (29.1.2010)
48* PEARLS OF MICRO POETRY Vol.4 (6.3.2010)
49* PEARLS OF MICRO POETRY Vol.5 (16.8.2010)
50* PEARLS OF MICRO POETRY Vol.6 (1.9.2010)
51* PEARLS OF MICRO POETRY Vol.7 (21.9.2010)
52* PEARLS OF MICRAO POETRY Vol.8 (8.3.2011)
Non-Fiction:
53* INDIA AND THE WORLD TODAY (2008)
Short Story:
54* SHORT STORY COLLECTION (1992)

Ramesh T A's Works:

Dreams, Ideas And Realities, Minerva Press, India
The Creation of One World, The Halo Papers, India
A Joint-Family Life!
Physically worn out elders look for spiritual peace;
The mechanical types spend time in video games
Doing the household chores as regular job, of late;
But the youngsters demand works as they do daily!

It is like the race between hare and turtle not as in the
Past telling the story, 'slow and steady wins the race, '
But hare-like youngsters ask turtle-like elders to run
With them to reach the places as they wish sans fail..!