Ravi Panamanna

(21/09/1956 / Ottapalam- Kerala State- India)
Biography of Ravi Panamanna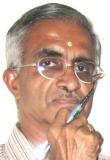 My pen name is Ravi Panamanna. Actual name is Subramanian A. I am a Science graduate. I graduated from NSS College, Ottapalam (1977) coming under Calicut University. I am now working in State Bank of India, SSI Branch, Kanjikode, Kerala. I am interested in Science, Philosophy, Art and literature. My living idols are Thomas Alva Edison and Swami Vivekananda. I like poems related to Nature, Philosophy and Human endeavor. Every man has a tale for our reflection.

Whatever strength that I have in the English language and English poetry, I owe it to my English teacher Smt. P C Satyabhama of my UP School era. She was both my English teacher and class teacher for three years at Anangannady High School, Panamanna, Ottapalam Taluk. The foundation stones laid by Kunjukutty Teacher and Madhavan Master during my Lower Primary era (Tharakan High School, Angadippuram) , Padmini Teacher - 4th standatd (U P School, Panamanna) and Sri K Ravunni Nair Master (HS Anangannady) are also not less important in this regard. Infact, it was Ravunni Nair Master who had initiated me into the world of Science, Philosophy and Malayalam Literature by his deep insight and very memorable classes - UP era. He was a class of his own. He used to take free tutions in Mathematics for high school students. He would leave the school by six o'clock and walk homeward covering a few miles. Those moments are still fresh in my memories. If my poems have touched your heart, there is no more a fine tribute than that which I can pay to these teachers of class who had kindled a lasting flame in me.

Ottapalam Taluk Library has also played an important role in pushing forward the reader and writer in me. Those boyhood years were really my surging years.

I have won some prizes in the literary field. Between 1994-99 I was regularly winning prizes both at the Zone and Circle level Essay competitions held by State Bank of India in connection with 'Rajyabhasha Samaroh'.

My published work: - 'A timeless echo' - by I-Proclaim.com-(Poetry) -Feb 2010. Search their Bookstore for details.

My articles are available at www.gzyn.com under the name of Subramanian A. The link for this page is http: //www.gzyn.com/cmp/profileActions.do? method=readProfile&userid=2041

I am also available at www.scribd.com where you can view my Malayalam documents as well.

Search the Google main page for 'Ravi Panamanna' for my various links.

Dear Poets, I wish to share the following views as expressed by our Poet Laureate Rabindranath Tagore. He was addressing a Convocation at Santhinikethan when he was conferred upon the degree of Doctor of Letters, HONORIS CAUSA by Oxforford University on August 7th 1940. He spoke the following words which is very much relevant even today.

'In an era of mounting anguish and vanishing worth, when disaster is fast overtaking countries and continents with savagery let loose and brutal thirst for possession augmented by science, it may sound merely poetic to speak of any emerging principle of worldwide relationship. But Time's violence, however immediately threatening, is circumscribed, and we who live beyond it and dwell also in the larger reality of Time, must renew our faith in the perennial growth of civilisation toward and ultimate purpose'.

Dear readers, If any of the poems has touched your heart, do let me have a feedback. Your valuable comments can certainly propel my pen to more vistas of life and finer aspects of poetry.

Ravi Panamanna's Works:

'The Space within us' - 1994
'A timeless echo' - Poetry. Published by I-proclaim.com - 2010 February
This page is based on the copyrighted Wikipedia Ravi Panamanna; it is used under the Creative Commons Attribution-ShareAlike 3.0 Unported License. You may redistribute it, verbatim or modified, providing that you comply with the terms of the CC-BY-SA.
New Poems
My Hamlet
(My hamlet is Panamanna South, near Ottapalam)

Upon the lap of eternal winds
She wakes up every morn'.
Upon the bosom of starry skies
She sleeps every night.

And quiet are her playgrounds,
She is wedded to paddy fields.