Biography of Richard Savage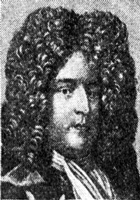 Richard Savage's main claim to fame was Samuel Johnson's biography which claimed that he was as illegitimate child descended from a noble line forced into poverty and misery by a mother whose sole aim and purpose in life was his destruction, Savage was a friend of Johnson's but this biography is disbelieved by most scholars and now has been discredited.

Richard Savage wrote two poems; The Bastard (1728) and The Wanderer (1729), and two comedies.

In 1727 he killed a man in a tavern brawl and was sentenced to death but was later pardoned. He died in poverty.
The Authors: A Satire
Bright Arts, abus'd, like Gems, receive their Flaws;
Physick has Quacks, and Quirks obscure the Laws.
Fables to shade Historic Truths combine,
And the dark Sophist dims the Text Divine.
The Art of Reasoning in Religion's Cause,
By Superstition's Taint a Blindness draws.
The Art of Thinking Free (Man's noblest Aim!)
Turns, in Half-thinking Souls, his equal Shame.
Colours, ill-mingled, coarse, and lifeless grow!