Biography of Rishi Kaashyap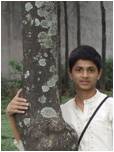 A buzzing bee

is what I am

A clock is how

I do My work.

My land is Holy,

for Lush Green it is.

Our culture is rich,

for my land is where

history prevails.

my land is full

of Youthful hills.

My land is that

Furrowed by rivers.

My people are those

who believe in god.

My people are those
who are the god.

we all are folks

who sing & dance

Sing & Dance.

For half a grown

Palm tree I am,

I learn and grow

to serve my land

I am an Upcoming star

learning to shine

ALL THROUGH THE NIGHT!
This page is based on the copyrighted Wikipedia Rishi Kaashyap; it is used under the Creative Commons Attribution-ShareAlike 3.0 Unported License. You may redistribute it, verbatim or modified, providing that you comply with the terms of the CC-BY-SA.
Wont You Tell Me Where?
That Brown Roller Skates!
He kept skating smoothly on
The Pearl white Ice.
But suddenly fell down
And wouldn't get up
I,
Can get him to skate again…
If I do…
He'll ask me about you!