Biography of Rishi Menon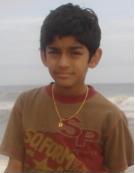 I started writing about 2 years ago when I read a few of my Dad's poems. Dad says he is proud of my very first poem, Nature. That sort of encouraged me and since then, I have written about 10 poems. I only write when I feel like it, if you know what I mean. I'm in the 9th standard now and am preparing to be a Doctor.

I am now in the 11th. I am no longer on course to be a Doctor. I have taken up Commerce and it is the first turning point to what will be my future career. I have also developed a great taste for drawing characters, writing stories and composing poetry. Art is in my blood. I have decided to take the two forward.

Rishi Menon's Works:

None, but I will - soon.
This page is based on the copyrighted Wikipedia Rishi Menon; it is used under the Creative Commons Attribution-ShareAlike 3.0 Unported License. You may redistribute it, verbatim or modified, providing that you comply with the terms of the CC-BY-SA.
Susan's Dream
Susan was a pretty girl
She dreamed she had a big pearl
She dreamed she made a tasty pie
and that she ate chicken fry

She dreamed she had several pets
and took them to meet many vets
She dreamed she had a big house
and with it a friendly mouse