Robert Henryson
Biography of Robert Henryson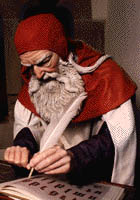 Little is known about Robert Henryson's life, who was a very well-known Scottish author much admired by his contemporories (often described as the 'greatest' Scottish medieval author); who wrote in middle-scots in the second half of the fifteenth century, and mainly during the reign of James III. He 'possibly' attended and taught at the University of Glasgow, and is associated with the town of Dunfermline, where -inasmuch as can be ascertained from his work and sixteenth century tradition- he may have worked as a teacher, lawyer, or public notary. He was not a court poet, unlike his younger contemporary, William Dunbar.

Henryson's main works include a version of Aesop's Fables (usually entitled The Morall fabillis of Esope the Phrygian), The Testament of Cresseid, a follow-on to Chaucer's Troilus and Criseyde (but also seen as his own, original 'masterpiece', a poem in its own right) , Robene and Makyne, and Orpheus and Eurydice, a version of the classic tale.

Pricilla Bawcutt describes Henryson in Discovering Scottish Writers as excelling as 'a narrative poet' who handled the fable genre 'brilliantly.'
This page is based on the copyrighted Wikipedia Robert Henryson; it is used under the Creative Commons Attribution-ShareAlike 3.0 Unported License. You may redistribute it, verbatim or modified, providing that you comply with the terms of the CC-BY-SA.
The Bludy Serk
THIS hinder yeir I hard be tald
Thair was a worthy King;
Dukis, Erlis, and Barronis bald,
He had at his bidding.
The Lord was ancean and ald,
And sexty yeiris cowth ring;
He had a dochter fair to fald,
A lusty Lady ying.