Rohit Sapra
Rohit Sapra
(7 August 1984 / Gwalior)
Biography of Rohit Sapra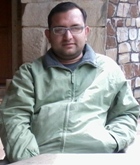 I am Rohit Sapra from Gwalior. Have completed my graduation finally. Gwalior is in the state of Madhya Pradesh, which is in India.

Rohit Sapra's Works:

I am a struggling poet so obviously I cannot afford to get my work published. Maybe, in future I do become a published author. Till then, I am simply waiting.
New Poems
Sirf Cry(Hindi)
Dukh aur Dard
Bas dard, sirf dard hai
Kya bolon, lagtha hai main kho gaya hoon
Kuch nahi samaj aatha
Kabhi kabhi lagtha hai, bas cry kar doon
Dukh aur dard mujko bahut tarpatha hai
Cry, sirf cry karna hai mujko.