Rose Hartwick Thorpe
Biography of Rose Hartwick Thorpe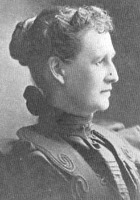 Rose Hartwick Thorpe (July 18, 1850 – July 19, 1939), American poet and writer, remembered largely for a single narrative poem that gained national popularity. She was born in Mishawaka, Indiana. Among her poems were Curfew Must Not Ring Tonight. She died in San Diego, California. The poem was written while Thorpe resided in Litchfield, Michigan, a small rural town. A bell in the center of the town commemorates the poem and Thorpe's time spent in the town. Litchfield has adopted the title of the poem as something of a symbol, having firetrucks and city website show the symbol of a bell reading "Curfew Shall not Ring Tonight."
A Brave Emperor
Night rolled its sombre curtain back
To greet the dawning day,
Black swept the angry Danube
On its terror-freighted way.
Great blocks of ice came crashing down
Amid the torrent's roar,
And seething waters flung their spray
Upon the ice-bound shore.