Rupert John Cornford
Biography of Rupert John Cornford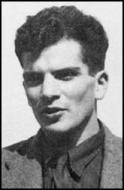 Rupert John Cornford (27 December 1915 – 28 December 1936) was an English poet and communist. He was the son of F. M. Cornford and Frances Cornford, and was through his mother a great-grandson of the naturalist Charles Darwin.

He was born in Cambridge, and named after Rupert Brooke, who was a friend of his parents, but preferred to use his second name. He was educated at Stowe School and Trinity College, Cambridge. As an undergraduate, reading history, he joined the Communist Party of Great Britain. He was two or three years younger than the group of Trinity College communists including Guy Burgess, Donald Maclean, Kim Philby and James Klugmann.

Another Cambridge student, who would play a major part in his life, was Margot Heinemann. They were lovers, and he addressed both poems and letters to her. He also had a relationship with a Welsh woman, Rachel (Ray) Peters, with whom he had a child: James Cornford, who was subsequently adopted and brought up by his grandparents, Francis and Frances Cornford. A photograph of Peters and Cornford can be found at the National Portrait Gallery, London.

From 1933 he was directly involved in Communist Party work, in London, and became associated with Harry Pollitt. During the Spanish Civil War he both recruited in Cambridge for the International Brigade, and fought in the war himself, inspired in part by the Germans in the Thälmann Battalion. He saw action at first in a POUM unit in Aragon in August 1936, before returning home, and coming back in December. He was killed at Lopera, near Córdoba.

His brother Christopher continued to be active in politics until well into the 1980s.

In poetic terms, he was no modernist; as George Orwell pointed out in 1940, he represented continuity with the older, imperial tradition.

Rupert John Cornford's Works:

* Understand the Weapon, Understand the Wound: Selected Writings of John Cornford (1976) edited by Jonathan Galassi
* Journey to the Frontier; Two roads to the Spanish Civil War by Peter Stansky and William Abrahams
This page is based on the copyrighted Wikipedia Rupert John Cornford; it is used under the Creative Commons Attribution-ShareAlike 3.0 Unported License. You may redistribute it, verbatim or modified, providing that you comply with the terms of the CC-BY-SA.
A Letter From Aragon
This is a quiet sector of a quiet front.

We buried Ruiz in a new pine coffin,
But the shroud was too small and his washed feet stuck out.
The stink of his corpse came through the clean pine boards
And some of the bearers wrapped handkerchiefs round their faces.
Death was not dignified.
We hacked a ragged grave in the unfriendly earth
And fired a ragged volley over the grave.