Sadvansha Munshi
Sadvansha Munshi
[Spriha] (24th March'99 / Kanpur)
Biography of Sadvansha Munshi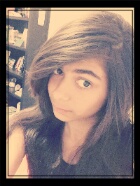 Hey all.... Poetry is like my diary. Each and every poem has a story behind it. They were my emotions for a moment.. Don't hate them if you can't get it. Just inbox me what you don't like about me instead of hitting the dislike button in the corner anonymously.. That would be a great help...
New Poems
Just Another Simple Poem
Here it goes again,
Just another simple poem.
Not writing for any gain
Nor for any friends or foe.

Its just a passion for some
Or just a waste of time,
Some are proud of what i have become
And to some I'm not so fine.