Sam Walter Foss
Biography of Sam Walter Foss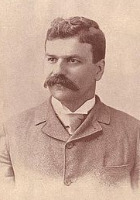 Sam Walter Foss was a librarian and poet whose works included The House by the Side of the Road and The Coming American.

He was born in rural Candia, New Hampshire. Foss lost his mother at age four, worked on his father's farm and went to school in the winter. He graduated from Brown University in 1882, and would be considered illustrious enough to warrant having his name inscribed on the mace. Beginning in 1898, he served as librarian at the Somerville Public Library in Massachusetts. He married a minister's daughter, with whom he had a daughter and son. Foss used to write a poem a day for the newspapers, and his five volumes of collected poetry are of the frank and homely "common man" variety.

Longtime baseball announcer Ernie Harwell alluded to one of Foss's poems whenever he described a batter taking a called third strike: "He stood there like the house by the side of the road and watched it go by."

"Bring me men to match my mountains, Bring me men to match my plains, Men with empires in their purpose, And new eras in their brains."

-- Sam Walter Foss, from "The Coming American", July 4, 1894

These words were inscribed on a granite wall at the United States Air Force Academy to inspire cadets and officers, but they were removed in 2003.

He is buried in the North Burial Ground in Providence, Rhode Island.

Sam Walter Foss's Works:

* Back Country Poems (1892)
* Whiffs from Wild Meadows (1895)
* Dreams in Homespun (1897)
* Songs of War and Peace (1899)
* The Song of the Library Staff (1906)
* Songs of the Average Man (1907)
This page is based on the copyrighted Wikipedia Sam Walter Foss; it is used under the Creative Commons Attribution-ShareAlike 3.0 Unported License. You may redistribute it, verbatim or modified, providing that you comply with the terms of the CC-BY-SA.
The Calf-Path
One day, through the primeval wood,
A calf walked home, as good calves should;
But made a trail all bent askew,
A crooked trail as all calves do.

Since then two hundred years have fled,
And, I infer, the calf is dead.
But still he left behind his trail,
And thereby hangs my moral tale.