Sayeed Abubakar
Sayeed Abubakar
(21 September 1972 / Jessore / Bangladesh)
Biography of Sayeed Abubakar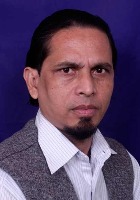 Sayeed Abubakar, a contemporary poet of Bangladesh, is regarded as the major poet of the 90th decade. He was born on September 21,1972 at Rambhodrapur, Panjia under Keshabpur upazila of Jessore district, Bangladesh. His father was Nur Mohammad Biswas, a renowned social worker and mother was Amena Khatun, a devoted homemaker.

< b> Literary Life < /b>

Sayeed Abubakar started writing poems at a very early age. He was then only 11. Many of those poems were published in the local newspapers such as `The Daily Sphulingo' and `The Daily Ranar'. In those days he used to compose 60-70 poems every day, for he was determined to defeat Rabindranath Tagore by the number of poems. Reason is that Rabindranath started writing poems at his 8 years and Sayeed Abubakar started at his 11 years. Really it was a peculiar silly attempt of a young poet. Later he realized his mistake. But it helped him to be skilled both in rhymes and rhythm at the early stage of his life.

He did not stop running after poems ever. Actually poetry got mixed with his blood and soul. As a student, he was very brilliant. He passed his School Secondary Certificate(SSC) and Higher Secondary Certificate(HSC) examinations in First Division in 1987 and 1989 respectively. He obtained BA(Honours) in English Literature in 1992 and MA in English Literature in 1993 from Rajshahi University successfully. Just after completing his student life, he joined the popular national fortnightly magazine `Palabadal' as a sub-editor. He edited this literary magazine from 1998 to 1999. Suddenly he left Dhaka city for Chittagong to join Faujdarhat Cadet College as a lecturer of English. The hills and the Bay of Bengal attracted the poet very much but the strict routine-bound life of cadet college did not suit him. He left Faujdarhat Cadet College in 2003 and joined Govt. Lalon Shah College passing the prestigious BCS examination. He is now an assistant professor of English working at Sirajganj Govt. College, Sirajganj. But not a single day he forgot his mission of writing poetry.

In national daily his poem was first published in 1988. Then he was a student of class XI at BL Govt. College in Khulna. While in Rajshahi University, he completed composing some of his best lyrics. All those were published then in all the most popular national newspapers and national magazines like the Ittefaq, the Sangbad, the Dainik Bangla, the Inqilab, the Pakkhik Shoily, the Sachitra Bangladesh etc. His first book of poetry `Pranoyer Prathom Pap'(First Sin of Love) was published in 1996. It attracted the attention of the famous living poets. This very book made him famous as a poet in Bangladesh. The second edition of `Pranoyer Prathom Pap' was published in 2008. Now he has eight books of poetry in the market. Many of his poems have been translated in English and Spanish.

The famous publishing Company of USA, I-Proclaim Press, published his two books named 'Anthology of the World Poetry' and 'The Golden Kabin' (Translation of Al Mahmud's 'Sonali Kabin') in 2010. The famous publication of UK, Bubok, has published his 'Selected Poems: 2010-2012'in 2013.

He is the editor of an English little magazine named 'Bangla Literature'. Modern Bengali literature is presented here in English for the world readers.

Poet Syed Ali Ahsan, Syed Ali Ashraf, Al Mahmud, Abdul Mannan Syed, Nazib Wadud, Hasan Alim, Khurshid Alam Babu, Abdul Halim Kha, Mokbul Mahfuz, Taufik Zahur, Dr Fazlul Haq Tuhin, Ahmad Basir, Hosne Ara Beauty, Shahin Saikat and others have written articles on this great poet. Al Mahmud has written essays two times on this poet, which is a rare incident in the field of modern Bengali poetry. Poet Al Mahmud in one of his essays written on Sayeed Abubakar says: 'I got surprised while reading his poems published in newspapers.' Abdul Mannan Syed says, 'Sayeed Abubakar is a real poet from top to toe.' Once reading his first book `Pranoyer Prathom Pap' poet Khurshid Alam Babu had declared in one of his easays: 'It is high time we declared that Sayeed Abubakar is the greatest young poet of Bangladesh.'

< b> Awards < /b>

Shabdoshilon Award,2008
Lalon Award,2009
Panjia Sahitya Sommelon Sommanona,2010
Challish Bachhar Purtite Utsanga Srijan Chintan Sammanona,2012
Sristishil Lekhoksongho Sammanona,2014
DCL Literary Award, Bogra,2015

Sayeed Abubakar's Works:

< b> Poetry < /b>
Pranoyer Prothom Pap(First Sin of Love) [1996, Palabadal Publication, Fakirapool, Dhaka; 2nd edition 2008, Ittadi Grantha Prakash, Bangla Bazar, Dhaka]
Julekhar Shes Jal(Last Trap of Julekha) [2004, Palabadal Publication, Fakirapool, Dhaka; 2nd edition 2011, Parilekh, Rajshahi]
Sada Andhokarey Kalo Josnai(Into White Darkness, Black Moonlight) [2006, Ittadi Grantha Prakash, Bangla Bazar, Dhaka]
Mesopotemiar Mme(Mme of Mesopotemia) [2007, Parilekh, Rajshahi]
Bongatey Bosoti(Dwelling in Bengal) [2008, Ittadi Grantha Prakash, Bangla Bazar, Dhaka]
Ebar Ektibar Eksathey(Now Altogether for Once) [2010, Ittadi Grantha Prakash, Bangla Bazar, Dhaka]
Kapatakkha Parer Roddur(Sunrays on the Banks of the Kapatakkha) [2012, Ittadi Grantha Prakash, Bangla Bazar, Dhaka]
Kagoj Kusum(Paper-flowers) [2014, Mahakal, Bangla Bazar, Dhaka]
Tumi Balo Tumi Bristi Valobaso [2015, Parilekh, Rajshahi]
Shrestha Kabita [2015, Ittadi Grantha Prakash, Bangla Bazar, Dhaka]
Selected Poems: 2010-2012 [2013, Bubok, UK]
Poemas de Sayeed Abubakar: un Poeta Bengali[Sayeed Abubakar's poems in Spanish translated by Lorena Lopez Velazquez] [2013, Bubok, UK]

< b> Prose < /b>
Kabita Kamal (Lotus of Poetry) [2006, Ittadi Grantha Prakash, Bangla Bazar, Dhaka]]
Kabitar Adhunikata (Modernity of Poetry) [2010, Siddikia Publications, Bangla Bazar, Dhaka].

< b> Children Book < /b>
Chharachhari [2009, Parilekh, Rajshahi]

< b> Translation < /b>
Modhusudoner Engreji Kabita [2009, Bhumika, Bangla Bazar, Dhaka]
The Golden Kabin'(Translation of Al Mahmud's 'Sonali Kabin') [2010, I-Proclaim Press, USA]
Vinna Vasar Shrestha Galpo [2014, Mahakal, Dhaka]

< b> Editing < /b>
Adhunik Bangla Kabita [2009, Ittadi Grantha Prakash, Bangla Bazar, Dhaka]
Anthology of the World Poetry [2010, I-Proclaim Press, USA]

< b> Little Magazine < /b>
Bangla Literature [1st Issue, February 2011]
Bangla Literature [2nd Issue, April 2012]
Shiraji Puran [1st Issue, December 2012]
This page is based on the copyrighted Wikipedia Sayeed Abubakar; it is used under the Creative Commons Attribution-ShareAlike 3.0 Unported License. You may redistribute it, verbatim or modified, providing that you comply with the terms of the CC-BY-SA.
Ya Rasulullah
People on earth are crying;
Women-children are dying;
We need here you, ya rasulullah
Ya nabi, ya habibullah.

People on earth want peace,
want mercy and justice;
Who can give it but you, ya rasulullah?
Ya nabi, ya habibullah.