Seema Aarella

(19 Mar 1979 / KGF, India)
Biography of Seema Aarella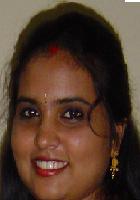 B.E graduate in Electronics and communication Engineering.Worked as a lecturer for some time, Later went on to do MTech in VLSI at Jain University, Banglore India, now studying my second Master's Degree in Engineering Technology at University of North Texas, Texas, USA. Enthusiastic towards life and its ways.Trying to view life optimistically, accepting challenges and looking forward to new turns and returns.Compassionate towards all animals except man.
Believer of God and Good.Poetry for me is just an outlet to my thoughts.....i feel good when people who read my poems identify themselves in any of the lines.

I have brought out my first poems book called
'Letters From the heart'

Publisher: leadstart publishing
www.leadstartcorp.com
www.frogbooks.net
imprint: Virgin Leaf Books


To buy:
http: //www.a1books.co.in/searchdetail.do? itemCode=9380154011
www.a1books.in
www.amazon.com

To review my book:
http: //bookwag.com/2009/06/19/new-book-letters-from-the-heart-by-seema-aarella/.

To read my blog:

www.solidshadows.wordpress.com


Love
SEEMA

Seema Aarella's Works:

My first book is a collection of my free verse called
'LETTERS FROM THE HEART'
Which has come out recently and will be available on
the net and marketed all over India...by
Leadstart Publishing House
Mumbai
corp Office.US
This page is based on the copyrighted Wikipedia Seema Aarella; it is used under the Creative Commons Attribution-ShareAlike 3.0 Unported License. You may redistribute it, verbatim or modified, providing that you comply with the terms of the CC-BY-SA.
! ...I DREAM
I dream, I dream, I dream,
Of my good old days
Of future and its pleasant ways
Hope my dream, forever it stays.

I dream of love in every heart
Hope for all struggling lot
A gift, of good, deed and thought.