Shamsur Rahman
Shamsur Rahman
(23 October 1929 – 17 August 2006 / Dhaka / Bangladesh)
Biography of Shamsur Rahman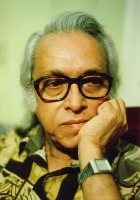 Shamsur Rahman was a Bangladeshi poet, columnist and journalist. Rahman, who emerged in the latter half of the 20th century, wrote more than sixty books of poetry and is considered a key figure in Bengali literature. He was regarded the unofficial poet laureate of Bangladesh. Major themes in his poetry and writings include liberal humanism, human relations, romanticised rebellion of youth, the emergence of and consequent events in Bangladesh, and opposition to religious fundamentalism.

Early Life and Education

Shamsur Rahman was born in his grandfather's house 46 no. Mahut-Tuli, Dhaka. His paternal home is situated on the bank of the river Meghna, a village named Pahartoli, near the Raipura thana of Narshingdi district. He was the fourth of thirteen children. He studied at Pogos High School from where he passed matriculation in 1945. Later he took his I.A. as a student of the Dhaka College. Shamsur Rahman started writing poetry at the age of eighteen, just after graduating from the Dhaka College. He studied English literature at the Dhaka University for three years but did not take the examination. After a break of three years he got admitted to the B.A. pass course and received his B.A. in 1953. He also received his M.A. in the same subject where he stood second in second division.

In his leisure after the matriculation, he read the Golpo Guccho of Rabindranath Tagore. He told that this book took him into the extra ordinary world and transformed him into an altogether different personality. In 1949, his poem Unissho Unoponchash was published in Sonar Bangla which was then edited by Nalinikishor Guho.

He had a long career as a journalist and served as the editor of a national daily, Dainik Bangla and the weekly Bichitra in the 1980s. A shy person by nature, he became an outspoken liberal intellectual in the 1990s against religious fundamentalism and reactionary nationalism in Bangladesh. As a consequence, he became a frequent target of the politically conservative as well as Islamists of the country. This culminated in the January 1999 attack on his life by the militant Harkat-ul-Jihad-al-Islami. He survived the attempt.

Poetry

Shamsur Rahman's first book of poetry, Prothom Gaan Dwityo Mrittyur Agey (First Song Before the Second Death) was published in 1960. He had to go through the political turbulence of 60's and 70's which also reflected in his poems clearly. He wrote his famous poem Asader Shirt which was written with respect to the mass uprising of 1969 led by Maulana Bhasani. During the Bangladesh Liberation War he wrote a number of extra ordinary poems based on the war. These poems were so inspiring that they were recited at the camps of freedom fighters. Later these poems were published in Bondi Shibir Theke (From Confinement in Enemy Territory) in 1972. Later he continued writing poems in the independent Bangladesh and remained as the poet whose poems reflect the history of the nation. During the historical movement against Ershad he published his book Buk Tar Bangladesher Hridoy indicating the great sacrifice of Nur Hossain.

Poetic Diction

Shamsur Rahman wrote most of his poems in free verse, often with the rhythm style known as Poyaar or Okhshorbritto. It is popularly known that he followed this pattern from poet Jibanananda Das. He also wrote poems in two other major patterns of Bengali rhythmic style, namely, Matrabritto and Shwarobritto.

Career in Journalism

Shamsur Rahman started his professional career as a co-editor in the English daily Morning News in 1957. Later he left this job and went to the Dhaka center of the then Radio Pakistan. But he returned back to his own rank at Morning News in 1960 and was there till 1964. After the liberation of Bangladesh he wrote columns in the daily Dainik Bangla. In 1977 he became the editor of this daily. He also jointly worked as the editor of Bichitra, a weekly published since 1973. During the period of President Ershad he got involved with internal turbulence in the Dainik Bangla. A rank 'Chief Editor' was created to take away his position as the top executive and rip him off all executive powers. In 1987 he left the daily as a protest against this injustice. He also worked as the editor of monthly literary magazine Adhuna for two years since 1986 and as the main editor of the weekly Muldhara in 1989. He worked as one of the editors of Kobikantha, an irregular poetry magazine, in 1956.

Death

His health broke down towards the end of 1990s and on two occasions he received major cardiac surgery. He died of heart and kidney failure after having been in a coma for 12 days. He was 77.

Critical Acclaim

Zillur Rahman Siddiqui, a friend and critic, describes Shamsur Rahman as one who is "deeply rooted in his own tradition." In his opinion, Shamsur Rahman "still soaks the language of our times, transcending the limits of geography. In his range of sympathy, his catholicity, his urgent and immediate relevance for us, Shamsur Rahman is second to none."

Professor Syed Manzoorul Islam has similar praise for Rahman, "It is true he has built on the ground of the 30's poets, but he has developed the ground, explored into areas they thought too dark for exploration, has added new features to it, landscaped it and in the process left his footprints all over."

In the year 1993 renowned Bangladeshi writer Humayun Azad wrote a book about critical analysis of Shamsur Rahman's poetry titled Shmasur Rahman : Nisshongo Sherpa (A Lonely Climber).

However, it is often alleged that Shamsur Rahman revolved around his own poetic formula created in the 1960s and exhausted himself in the same fashion. He could not transcend himself during the next forty years of his poetic career.

Awards

Adamjee Award (1962)
Bangla Academy Award (1969)
Ekushey Padak (1977)
Swadhinata Dibosh Award (1991)
Mitshubishi Award of Japan (1992)
Ananda Puroshker from India (1994).
TLM South Asian Literature Award for the Masters, 2006.

Shamsur Rahman's Works:

Poetry

Prothom Gan Ditio Mrittur Age (1960)
Roudro Korotite (1963)
Biddhosto Nilima (1967)
Niralokay Dibboroth (1968)
Neej Bashbhumay (1970)
Bondi Shibir Theke (1972)
Dusshomoyer Mukhomukhi (1973)
Firiay Nao Ghatok Kata (1974)
Adigonto Nogno Pododhoni (1974)
Ak Dhoroner Ohongkar (1975)
Ami Onahari (1976)
Bangladesh Shopno Dakhay (1977)
Protidin Ghorhin Ghore (1978)
Ekaruser Akash (1982)
Udbhot Uter Pithe Cholche Shodesh (1983)
Nayoker Chaya (1983)
Amar Kono Tara Nei (1984)
Je Ondho Shundori Kade (1984)
Astray Amar Bishshash Nei (1985)
Homerer Shopnomoy Hat (1985)
Shironam Mone Pore Na (1985)
Icchay Hoy Ektu Darai (1985)
Dhulay Goray Shirostran (1985)
Deshodrohi Hote Icchay Kore (1986)
Tableay Applegulo Heshe Othay (1986)
Obirol Jolahromi (1986)
Amra Kojon Shongi (1986)
Jhorna Amar Angulay (1987)
Shopnera Dukray Othay Barbar (1987)
Khub Beshi Valo Thakte Nei (1987)
Moncher Majhkhanay (1988)
Buk Tar Bangladesher Hridoy (1988)
Matal Hrittik
Hridoy Amar Prithibir Alo (1989)
Shay Ak Porobashay(1990)
Grihojudder Agae(1990)
Khondito Gourob(1992)
Dhongsher Kinare Bashay(1992)
Akash Ashbe Neme(1994)
Uzar Baganay(1995)
Asho Kokil Asho Shornochapa
Manob Hridoy Naibeddo Shajai
Hemonto Shondhay Kichukal(1997)
Chayagoner Shonge Kichukkhon
Meghlokay Monoz(1998)
Shoundorjo Amar Ghore(1998)
Ruper Probale Dogdho Shondha(1998)
Tukro Kichu Shonglaper Shako(1998)
Shopno O Dushshopnay Bachay Achi(1999)
Nokkhotro Bajate Bajate(2000)
Shuni Hridoyer Dhoni(2000)
Hridopodmay Jotsna Dolay(2001)
Bhognostupay Golaper Hashi(2002)
Bhangachora Chand Mukh Kalo Kore Dhukchay(2003)
Ak Phota kemon Onol(1986)
Horiner Har(1993)
Gontobbo Nai Ba Thakuk(2004)
Krishnopokkhay Purnimar Dikay(2004)
Gorostanay Kokiler Korun Aaobhan(2005)
Andhokar Theke Aloy(2006)
Na Bastob Na Dushshopno(2006)

Short Stories/b>

Shamsur Rahmaner Golpo

Novels

Octopas(1983)
Adbhut Adhar Ak(1985)
Niyoto Montaz(1985)
Elo Je Abelzxzxay(1994)

Children's Literature

Alating Belating(1974)
Dhan Bhanle Kuro Debo(1977)
Golap Phote Khukir Hatay(1977)
Rongdhonur Shako(1994)
Lal Fulkir Chora(1995)
Noyonar Jonno(1997)
Amer Kuri Jamer Kuri(2004)
Noyonar Jonno(2005)

Autobiography

Kaaler Dhuloy Lekha
Smritir Shohor

Collected Columns

Akanto Bhabna

Poems in Translation

Robert Froster Kobita(1966)
Robert Froster Nirbachito Kobita(1968)
Khawaja Farider Kobita(1968)

Drama in Translation

William Shakespeare's Hamlet
Uzein O'Neeler Markomilions

Others

Uponnyash Shomogro
Noyonar Uddeshe Golap
Kobitar Shather Gerostali
Gorosthane Kokiler Korun Ahban
Nirbachito[SR] 100 Kobita
Noyonar Jonno Ekti Golap
Shera Shamsur Rahman
Rongdhonur Sako
Shamsur Rahman-er Sreshtha Kobita (1976)
Premer Kobita (1981)
Shamsur Rahmaner Sreshtho Kobita (from Kolkata) (1985)
Shamsur Rahmaner Rajnaitik Kobita (1988)
Shamsur Rahmaner Premer Kobita (1993)
Shonirbachito Premer Kobita (1993)
Nirbachito Chora O Kobita (1996)
Kabbyashombhar (1996)
Chorashomogro (1998)
Prem O Prokitir Kobita (2004)
Shera Shamsur Rahman (2004)
Shamsur Rahman Kobita Shongroho (2005)
Shamsur Rahman Goddo Shongroho (2005)
Kobita Shomogro Ak (2005)
Kobtia Shomogro Dui (2006)
This page is based on the copyrighted Wikipedia Shamsur Rahman; it is used under the Creative Commons Attribution-ShareAlike 3.0 Unported License. You may redistribute it, verbatim or modified, providing that you comply with the terms of the CC-BY-SA.
Poems Journey
I'll soon be gone, quite alone
And quietly, taking none of you along
On this aimless journey. Useless
To insist, I must leave you all behind.

No, I'll take nothing at all.
On this solitary journey, you're stuffing
My bags for nothing; don't squeeze my favorites books
Into that beer-bellied suitcase.