Biography of Sir Henry Newbolt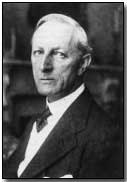 Born in Bilston, Staffordshire in 1862, Newbolt was educated at Clifton School and Oxford University. After his studies Newbolt became a barrister.

Higly respected, Newbolt was a lawyer, novelist, playwright and magazine editor. Above all, he was a poet who championed the virtues of chivalry and sportsmanship combined in the service of the British Empire.

Although his first novel, Taken from the Enemy, was published in time for his thirtieth birthday in 1892, Newbolt's reputation was established in 1897 in a poem written about a schoolboy cricketer who grows up to fight in Africa, Vitai Lampada. The poem was well received both critically and publicly at the time.

Shortly after war was declared Newbolt was recruited by the head of Britain's War Propaganda Bureau (WPB), Charles Masterman, to help shape and maintain public opinion in favour of the war effort. Newbolt, who was appointed controller of telecommunications during the war, was knighted in 1915. The Companion of Honour followed in 1922.

Newbolt authored two official volumes of the naval history of the war in the 1920s. His autobiography, My World as in My Time was published in 1932.

Sir Henry Newbolt died in 1938.
Clifton Chapel
This is the Chapel: here, my son,
Your father thought the thoughts of youth,
And heard the words that one by one
The touch of Life has turn'd to truth.
Here in a day that is not far,
You too may speak with noble ghosts
Of manhood and the vows of war
You made before the Lord of Hosts.