Biography of Sophia White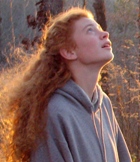 When Sophia is not at class, doing homework, trimming hedges, spelunking, sleeping, eating, reading, or spending time with her frieds, she writes poetry. 'I first became interested in poetry when I took a class on it in the ninth grade, ' says Ms. White. 'I am enthralled by such poets as Shel Silverstein, Alfred Noyes, Ralph Waldo Emerson, and Don Marquis.' When asked where she finds her inspiration for her poems, Ms White thoughtfully twirls one golden red curl around a finger before replying, 'I think that people I know well and care about a lot can move me to words, as well as particularly emotional experiences. That is when I write my more personal poems, such as 'Darklings' and 'When Words Fail.' However, when I am in a 'green' sort of mood (read 'Color Me! ') , I love to write idylls and ballads, like 'A Light and Fair Wind's Blowing', 'My Myles Has Gone Away', and 'Cursed.' Ms. White has been writing poetry for one year - 'And it's been a most lovely year, too, perhaps the best I have yet lived! ' At sixteen years old, Ms. White is a young poet, just begun on her literary endeavors. She looks forward to growing in her creativity and command of the poetic devices. 'I think structured, rhymed, and metered poems are the most delightful, ' she says, 'and I think free verse is used much too freely and in often bad taste. Much of my own free verse is ill done. It is much harder to write a structured poem, but the results are so much more rewarding.' When asked what her goal as a poet is, she promtly replies, 'I want to write poems that leave the reader with a refreshed, sweet, and pleasant taste on their lips, as though they had just sampled a small droplet of nectar from a honeysuckle.' Ms. White lives in the lush green foothills of the Appalachian mountains, where she and a small group of friends write poems frequently. She enjoys outdoor activities and anything related to literature.

Sophia White's Works:

'A Light and Fair Wind's Blowing' published in 'Immortal Verses' by the International Library of Poetry. Also, two other poems published in some books somewhere, but she isn't sure where. She's rather scatterbrained.
This page is based on the copyrighted Wikipedia Sophia White; it is used under the Creative Commons Attribution-ShareAlike 3.0 Unported License. You may redistribute it, verbatim or modified, providing that you comply with the terms of the CC-BY-SA.
Promise Kept
Trapped in a dark and clammy hole,
Pain lanced through heart and soul,
No rest, no peace, no comfort found
In walls or ceiling, air or ground.

I gnashed my teeth and ripped my hair,
Called for you, but you weren't there.
I screamed and cursed, clawed my face,
But you had vanished without a trace.