Tadasha Tripathy

[SILVI] (19/12/93 / Sonepur, ODISHA
Biography of Tadasha Tripathy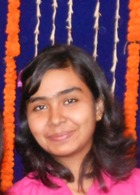 In every moment
New poems and new lines
Are playing inside
My mind coming from heart
But I always search
A short span of time
To write it down.
Often it happens
That they come and
Leave me, my brain at once
But as I am bound
In between some rule.
It's really a difficult job
To walk in two roads
At a time, I realize
After a strong lesson
From my college
Still I will stick to it.

Tadasha Tripathy's Works:

A Bucket Of Flower
This page is based on the copyrighted Wikipedia Tadasha Tripathy; it is used under the Creative Commons Attribution-ShareAlike 3.0 Unported License. You may redistribute it, verbatim or modified, providing that you comply with the terms of the CC-BY-SA.
New Poems
People who read Tadasha Tripathy also read
May I Be A...
May I be the rising sun
for a day long,
with my order I will make
blossom the sweet lotus,
never be hot, never be tough,
I will try to be
A sweet memory for all;
A sweet memory for all.