Thomas Vaux
Biography of Thomas Vaux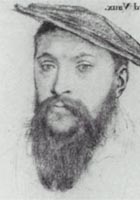 VAUX OF HARROWDEN, THOMAS VAUX, 2ND BARON (1510-1556), English poet, eldest son of Nicholas Vaux, 1st Baron Vaux, was born in 1510. In 1527 he accompanied Cardinal Wolsey on bis embassy to France; he attended Henry VIII. to Calais and Boulogne in 1532; in 1531 he took his seat in the House of Lords, and was made Knight of the Bath at the coronation of Anne Boleyn. He was captain of the Isle of Jersey until 1536. He married Elizabeth Cheney, and died in October 1556. Sketches of Vaux and his wife by Holbein are at Windsor, and a finished portrait of Lady Vaux is at Hampton Court. Two of his poems were included in the Songes and Sonettes of Surrey (Tottel's Miscellany, 1557). They are " The assault of Cupid upon the fort where the lover's hart lay wounded, and how he was taken," and the " Dittye . . . representinge the Image of Deathe," which the gravedigger in Shakespeare's Hamlet misquotes. Thirteen pieces in the Paradise of Dainty Devices (1576) are signed by him. These are reprinted in Dr A. B. Grosart's Miscellanies of the Fuller Worthies Library (vol. iv., 1872).
This page is based on the copyrighted Wikipedia Thomas Vaux; it is used under the Creative Commons Attribution-ShareAlike 3.0 Unported License. You may redistribute it, verbatim or modified, providing that you comply with the terms of the CC-BY-SA.
Try Before You Trust
To counsel my estate, abandoned to the spoil
Of forged friends, whose grossest fraud is set with finest foil;
To verify true dealing wights, whose trust no treason dreads,
And all too dear th'acquaintance be, of such most harmful heads;
I am advised thus: who so doth friend, friend so,
As though tomorrow next he feared for to become a foe.

To have a feigned friend, no peril like I find;
Oft fleering face may mantle best a mischief in the mind.