Vonda Overlie
Vonda Overlie
(Havre)
Biography of Vonda Overlie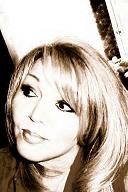 I am here to express all these repressed feelings I have been having. I am new to this. I don't know if this is poetry. I write from my heart and it feels good.
An Ode
Your touch has the power to make me tremble
Never old, always fresh, making me feel beautiful.

You have a way of loving me, none I'd never known
So many flaws... yet you see perfection.

We are in harmony, a beautiful ode to lovers long ago.
Carrying on the tradition of Endless love.