Wicked Mike
Wicked Mike
(South Africa)
Biography of Wicked Mike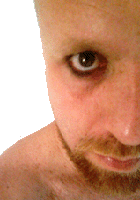 Filled with thought!

Personal blog at www.wickedmike.com. Love for my town at www.loveknysna.com, political commentary at www.knysnakeep.org and old music zine at www.wickedrock.net.

Favourite book - Imajica (Clive Barker)
Favourite movies - Fight Club & Donnie Darko
Favourite TV Series - Buffy the Vampire Slayer
Favourite Poem of My Own - Whispers
Hate: Liars, the lazy and religious hypocires.

Wicked Mike's Works:

Only in my head. Never tried to be published although most of my poems have been filed, online, under the title Black Book for many years.
A Sometime Hurt
You never acted without good intention
but in the sky my moon is dying,
blackened by your love
Leave me
to treasure your silence,
gain time enough
to grow my wings and escape
your silken pillow upon my face
and fly
to thrust my tongue between
the lips
of Life.