Wicked Mike
Wicked Mike
(South Africa)
Biography of Wicked Mike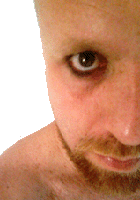 Fat with thought!

Personal blog - www.wickedmike.com
Love for my town - www.loveknysna.com
Helping kids - www.loveknysnaprojects.co.za
Gets me into trouble - www.knysnakeep.org

Favourite book - Imajica (Clive Barker)
Favourite movies - Fight Club & Donnie Darko
Favourite TV Series - Buffy the Vampire Slayer
Favourite Poem of My Own - Whispers

Despise: Fake friends, the lazy, dishonest politicians and religious hypocrites.

Love: Opinion followed by action, Masterfood's Hot English Mustard, pretty women, Windhoek beers, children laughing, walking, and Knysna (the prettiest town in South Africa) .

Wicked Mike's Works:

Only in my head. Never tried to be published although most of my poems have been filed, online, under the title Black Book for many years.
A Lover's Prelude
And she said to me,
before she sang
the Song of Fragility,
"Death is the limb of love"

(The song) :
Bombs shelter
a welter of tears
that splash from a mother