William Brighty Rands
Biography of William Brighty Rands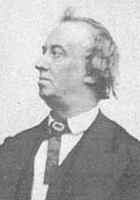 Born in 1823, William Brighty Rands published several volumes of children's literature anonymously and contributed to various periodicals under various pseudonyms, especially Matthew Browne, Henry Holbeach, and T. Talker. He worked as a reporter in the House of Commons and died in 1882. His major publications were:


[Browne, Matthew] Chaucer's England (London: Hurst and Blackett, 1869).
Lilliput Levee (1864)
Lilliput Lectures (London: Strahan, 1871). PR 5209 R2 L5 York University Library
Lilliput Revels (New York: G. Routledge, 1871). Microopaque. New York : Readex Microprint, 1970. Center of Research Libraries Database.
Lilliput Legends (1872)
W. B. Rand, Lilliput Lyrics, ed. R. Brimley Johnson (London: John Lane, the Bodley Head, 1899). del F Fisher Rare Book Library
This page is based on the copyrighted Wikipedia William Brighty Rands; it is used under the Creative Commons Attribution-ShareAlike 3.0 Unported License. You may redistribute it, verbatim or modified, providing that you comply with the terms of the CC-BY-SA.
The Thought
Into the skies, one summer's day,
I sent a little Thought away;
Up to where, in the blue round,
The sun sat shining without sound.

Then my Thought came back to me.—
Little Thought, what did you see
In the regions whence you come?
And when I spoke, my Thought was dumb.