Biography of William Lisle Bowles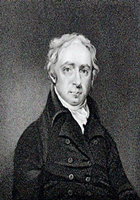 Bowles was born at Northamptonshire and educated at Trinity College, Oxford, receiving his Batchelor of Arts in 1786 and Master of Arts in 1792. He was ordained deacon in 1788. He served as curate at Wiltshire (1788), rector at Chicklade (1795), Dumbleton (1797) and Bremhill, Wiltshire (1804). He became prebendary (1804) and canon residentiary (1828) at Salisbury Cathedral. Though he mostly led a city life as a clergyman and magistrate, his writings reveal a longing for rural retirement. Though his first work was well received by the early romantic poets, most of his work is no longer read. He is remembered for his long public argument with Byron, known as the "Pope-Bowles controversy", in which Byron, along with others like Thomas Campbell, ardently defended Pope's greatness and true rank among poets.
This page is based on the copyrighted Wikipedia William Lisle Bowles; it is used under the Creative Commons Attribution-ShareAlike 3.0 Unported License. You may redistribute it, verbatim or modified, providing that you comply with the terms of the CC-BY-SA.
Time and Grief
O TIME! who know'st a lenient hand to lay
Softest on sorrow's wound, and slowly thence
(Lulling to sad repose the weary sense)
The faint pang stealest unperceived away;
On thee I rest my only hope at last,
And think, when thou hast dried the bitter tear
That flows in vain o'er all my soul held dear,
I may look back on every sorrow past,
And meet life's peaceful evening with a smile: