Aalok Sensharma
Aalok Sensharma
(7 december 1997 / Meerut/India)
Biography of Aalok Sensharma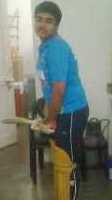 Hello Everyone! I am Aalok. I am a 16-year old boy, currently studying in 11th standard, extremely introvert but aggressive.My aim and only purpose in life is to join The Indian Army as a para-commando.
I love cricket and my favourite cricketer is Rahul Dravid. I am a foodie and can eat Dal Makhani at any time of the day and any number of times. My favourite singers are Adam Young and Mohammad Rafi and the songs that are closest to my heart are The saltwater room and Kya hua tera waada. I am a big fan of Owl City.
My hobby is writing poems and I find great interest in photography (which I am still not really good at!) . I absolutely hate going to parties and love spending time alone in my room. My friends call me 'Bhole Ram'(to simple) and 'Military Man'.
Sweet Dreams
I opened my eyes last night
And saw a sweet dream.

I was alone in the dream,
In the night sky, I was was feeling chill!
It was a dark night,
But I was feeling light! !

I was near the water fall