Abdulaziz Al-Maqaleh
Biography of Abdulaziz Al-Maqaleh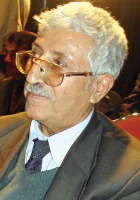 Dr. Abdul Aziz Al-Maqaleh, (born 1937), a Yemeni poet and writer. He follows the school of free poetry and he is the Yemen's first poet won the Al-Owais cultural Award

Al-Maqaleh was born in 1937 in one of Ibb's divisions called Al Saha'ir, and studied and finished his BA in 1970. In 1977, he received his Master's degree and PhD in 1977 from Ain Shams University in Cairo, Egypt.

During 1982 - 2001, Al-Maqaleh worked as the President of Sana'a University, and then as the Head of the Center for Studies and Research Yemen, Sanaa.
By All Means
It' sleeping, it did not die.
It will emerge from its sleep
(after a year)
I tell you, after twenty years
And it will wash its feet in the blood of kings,
It will dance till morning
And until evening
It will pull out its executioner's teeth and nails
Without malicious joy without despair