Abiodun Adekoya
Abiodun Adekoya
(15-03-75 / Lagos, Nigeria)
Biography of Abiodun Adekoya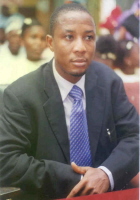 I was born into this world just like you. But I'm difference from you because I am creative and easygoing fellow. I love poem and I see it as a prophetic forces that deal with the present, past and future. It sight sees beyond human imagination and bring into remembrance the secret found in the realm of spirit. It covers all the areas of life and gives meaning to different people base on the ability of mind to interpret the knowledge found during the poetic tales of life. Its rhythm is sweet and full of passions and hateful for those who dislike the truth and uphold darkness as a gimmick of light. Poem is rhythm and rhythm is the music of mind, its understanding will metamorphose you to see clearly beyond the shore of your eyes.

I write everything I heard or seen or passive by sight and mind for you to read and gain immensely from my sleepless pen. Anytime you do things, it inspires me to go deeper into mystical realm and come back like rainfall to impact my norms on the earth. When you sleep and I don't sleep, talk and I don't talk, play and I don't play – don't worry. I am only making divine consultation with my deity to translate your sleep, talk and play into poetic parlances so that the voice of my sleepless pen can be heard beyond the seas and oceans of other languages.

You may say who the hell is this man? If I should tell you that I am Abiodun Adekoya, a young poet from lagoon city, Lagos - Nigeria. What news will you tell people about me again? I am a vibrant IT consultants and web designer. Anything you say or gossip about me is what other people will say or gossip about you too. I want you to know that I am like smooth-running water, quiet, easy and steady to learn new things everyday. I don't do things to satisfy you because I am myself. Though I have considerate intensity for what I do not to have ill effect on you so that we can both live together in peace and harmony.

My special word is: treat mankind equally and do to others what others can do to you.

I love music, reading, news, documentary, computer and internet. I also love children and noble people with ethical ideas to greatness and passion for humanity.

I wish you profound love in whatever area of your endeavours as you tell other people about me so that they can inform me that you are the one who introduce me to them.

I wish you profound love in whatever area of your endeavours as you tell other people about me so that they can say you are the one who told me to them.
Gentle Gin
Gentle I go
When her glimpse
Attracted my coming back.

Gentle I laid
Hand round her shoulder
And felt the surrounding with lust.

Gentle I bedded
Into her untouched virgin
That corrupted my taste.

Gentle she smiles
Like a relieved pain
Saying thank you darling.