Abu Sayeed Obaidullah
Abu Sayeed Obaidullah
(09/09/1965 / Dhaka, Bangladesh)
Biography of Abu Sayeed Obaidullah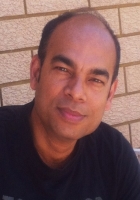 Poet, prose writer and translator Abu Sayeed Obaidullah was born on September 9,1965 in Bangladesh. Raised in the city of Dhaka, he received his B.A (Hons) M.A in English Literature at Dhaka University. His poems first appeared in prominent little magazines –Ekobingsho, Nisarga and other literary quarterlies.

Poetry of Sayeed played a pivotal role in shaping the language of the New Poetry of Bangladesh in 90s, which bears profuse faces, seemingly distorted feelings, somewhat surreal aptitude generating 'order in disorder' in the poetic aura as a whole. His poetry, predominantly earlier ones are- passionately entrenched in the deep roots of socio-cultural phenomenon of the country. With time, and particularly since migration to Australia, his poems have gone through definite changes bearing diverse colours and textures, tenor and tendencies, where one can sense, by reading his new poems, the disposition of arrival and departure, melancholic longing for union with the Ultimate, in a Sufi sense, as well as the feelings of uneasiness in apprehending the Time and timelessness- in almost a visionary approach towards our queer existence in the universe.

For Sayeed, language is not the channel of expression, but the technique of living the life of assimilation of acceptance and rejection of' Self' as well as the voyage of vision and reality. He has the inclination of avoiding conventional style of writing, destabilizing prearranged poetic forms, cliché subject matters. Rather he feels comfortable with the very rhythm embedded in the expression of language itself, the feelings that integrate the cadence of body and soul simultaneously. That's why his poems seem to be a flute having several reeds, producing different resonances and requiem.

Abu Sayeed Obaidullah's Works:

Sayeed's poetry collections include- Winter-death and Water-ripples (Shitmrityu O Jaltanranga,1995) , Silent-speeches of Balmiki (Balmikir Mounakahathn(1996) , Plassey and Panipath (Palashi O Panipath,2009) , Poems outside of Songs (Ganer Bahire Kobaitaguchcha,1910) , White-Saint Clouds(Shada Santa Meghdo,20l0) , Crossing No Mans Zone (No Mans Zone Perieye,2012) and The Tempatations of Mask and Hangman(Jollad O Mukhosh Bishoyok Prorochonaguli,2012) . He has been living in Australia since 1999 and teaches English at Navitas English, Sydney. He lives in Ingleburn, Sydney with his spouse, Shamima Nahid, and their three children- Afsana, Rizwan and Myisha.
Near The Snowy Mountain
Looking at the snowfalls, I shall only recite poetry, I tell you.
The Sita- necklace at the bottom of the white mountain,
Duldul horse, whatever comes airborne, I tell you.
Guards wearing red garments, also show tricks and swiftness
of an alien aura!

The ostrich and cats were about to go. The damsel,
came out of the bus- has golden pigeon in her body.
I search frantically for wheat seeds.