Adelaide Anne Procter
Biography of Adelaide Anne Procter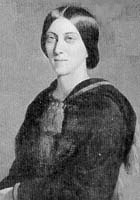 She was the eldest daughter of the poet Bryan Waller Procter ("Barry Cornwall") and Anne Benson Skepper. As a child Adelaide showed precocious intelligence. She attained considerable proficiency in French, German, and Italian, as well as in music and drawing, and she was a great reader. Brought up in surroundings favourable to the development of literary leanings, she began to write verses at an early age, and at eighteen contributed to the "Book of Beauty".

In 1851, she and two of her sisters became Catholics without, apparently, any disturbance of the harmonious relations of the domestic circle. In 1853, under the pseudonym of "Mary Berwick", she sent to "Household Words" a short poem, which so pleased the editor, Charles Dickens that he not only accepted it but also invited further contributions. It was not till late in the following year that Dickens learned that his unknown correspondent was the daughter of his old friend, Barry Cornwall. To "Household Words" and "All the Year Round" nearly all her poetry was in the first instance contributed. In 1858-60 her poems were collected and published in two series under the title of "Legends and Lyrics". They had a great success, reaching the tenth edition in 1866. In that year a new issue, with introduction by Dickens, was printed, and there have been several reprints since.

Miss Procter was of a charitable disposition: she visited the sick, befriended the destitute and home- less, taught the ignorant, and endeavored to raise up the fallen ones of her own sex. She was generous yet practical with the income derived from her works. In 1859 she served on a committee to consider fresh ways and means of providing employment for women; in 1861 she edited a miscellany, entitled "Victoria Regis", which had some of the leading litterateurs of the time as contributors and which was set up in type by women compositors; and in 1862 she published a slender volume of her own poems, "A Chaplet of Verses", mostly of a religious turn, for the benefit of the Providence Row night refuge for homeless women and children, which, as the first Catholic Refuge in the United Kingdom, had been opened on 7 October, 1860, and placed under the care of the Sisters of Mercy. In her charitable zeal she appears to have unduly taxed her strength, and her health, never robust, gave way under the strain. The cure at Malvern was tried in vain; and, after an illness of fifteen months, she died calmly, and was buried in Kensal Green Cemetery.

Adelaide Anne Procter's Works:

A House to Let, co-written with Charles Dickens, Elizabeth Gaskell and Wilkie Collins (1858)
Legends and Lyrics, first series (1858)
Legends and Lyrics, second series (1861)
A Chaplet of Verses (1862)
The Haunted House, co-written with Charles Dickens, Elizabeth Gaskell, Wilkie Collins, George Sala and Hesba Stretton (1859)
This page is based on the copyrighted Wikipedia Adelaide Anne Procter; it is used under the Creative Commons Attribution-ShareAlike 3.0 Unported License. You may redistribute it, verbatim or modified, providing that you comply with the terms of the CC-BY-SA.
A Lost Chord
SEATED one day at the Organ,
I was weary and ill at ease,
And my fingers wandered idly
Over the noisy keys.

I do not know what I was playing,
Or what I was dreaming then ;
But I struck one chord of music,
Like the sound of a great Amen.