Adrian Matejka
Biography of Adrian Matejka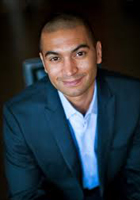 Adrian Matejka was born in Nuremberg, Germany and grew up in California and Indiana. He earned his BA from Indiana University and an MFA from Southern Illinois University Carbondale.

His first collection of poems, The Devil's Garden (2003), won the 2002 New York / New England Award. His second collection, Mixology (2009), was a winner of the National Poetry Series. Mixology was a finalist for a NAACP Image Award for Outstanding Literature. The Big Smoke (2013), which focuses on the life of the boxer Jack Johnson, was awarded the 2014 Anisfield-Wolf Book Award and was a finalist for the National Book Award and Pulitzer Prize. His most recent book is Map to the Stars (2017).

Matejka is the recipient of fellowships the Guggenheim Foundation and the Lannan Foundation. He teaches creative writing at Indiana University in Bloomington.
End of Side A
It ends because the beginning won't jumpstart
again: red smudge of a mouth, lipstick everywhere

the afterthought a comet leaves on its way
out. What makes this moment unfold like a fine

woman raising herself up from the bathroom floor?
Honky-tonk in the honeyed brown of an eyeball?