Agnes Atinyao Quirante
Agnes Atinyao Quirante
(July 21,1991 / La Trinidad)
Biography of Agnes Atinyao Quirante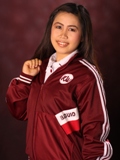 I wrote my poems, maybe just as good and I scribe out my emotions and thought of it. Anyway, I'm not a fond of reading poems and if I got the time and hook of it I will surely. I wrote poems occasionally or when I'm in front my computer bored. I speak English but not fluent. If you had time to pm me or should I say, I'm willing to meet new friends here and learning would be more fun.
God Bless Me
Dear God bless me
My mind is shallow?
And my reasoning is vain.
And am I shallow? Oh dear Lord.
God bless me for my faith in troubled water.
Dear God, Why do I write to you
If I don't believe?
Oh I believed because I wrote to you.
So just I'm a troubled soul.