Agnes Atinyao Quirante
Agnes Atinyao Quirante
(July 21,1991 / La Trinidad)
Biography of Agnes Atinyao Quirante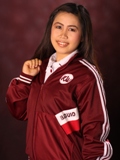 I wrote my poems, maybe just as good and I scribe out my emotions and thought of it. Anyway, I'm not a fond of reading poems and if I got the time and hook of it I will surely. I wrote poems occasionally or when I'm in front my computer bored. I speak English but not fluent. If you had time to pm me or should I say, I'm willing to meet new friends here and learning would be more fun.
Life Is Beautiful
Oh lives like changing melody.
You hear it deep, deep into the blankness of the day
You feel the music playing over and over again.
Life a rising and falling notes.

Life is so good when you listen deep within your heart
And for the harmony that blows so gentle
And for the breath of the music sheet.
Life is beautiful, just recognize it dear.