Ajay Vyas
Ajay Vyas
[Aryan] (14th April / Gwalior)
Biography of Ajay Vyas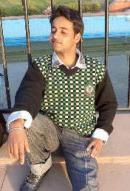 Ajay Vyas is A poet, Writer and a blogger.....Talking About His education He finish up with is engineering Now He is a Management Student....He started His blogging About 3 Yr back at that time he was not very much active... He is writing poem since his school days the Poem He Write are Related to Love Relationship Breakup FriendShip His Blog is " ajay14vyas.wordpress.com" Also very much Active on Instagram with his writing work.Search with nodoubt_Complicated
You are Free To contact Through Mail " ajay14vyas@gmail.com"
Can V B Friends
I would like to dedicate this poem to every girl who has gotten this response from a lover. I know how you feel. This happened 2 me I know how heart broken you feel every time your song comes on. I feel your pain. Find a way to get that anger out. If you keep it bottled up for to long, you will regret it. Thank You!