Akha Bhagat
Biography of Akha Bhagat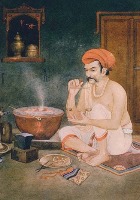 Akha Bhagat (or commonly known as Akho) (Gujarati: અખા ભગત, અખો) was a medieval period poet in Gujarati literature who wrote in the tradition of the Bhakti movement. He kept Gujarati literature alive and wrote his poems in pattern which is called "chhappa" (satirical poems).

History

He came to Ahmedabad from Jetalpur in the 17th Century. He was goldsmith by profession. His residence in Ahmedabad which is small room in Desaini Pol at Khadia is known as Akha no Ordo (literally meaning A room of Akha). Akho was Hindu- soni by cast and sub cast is pasawala (dhanpat). Soni means gold smith. one lane in desaini pol (street) is named as 'akha bhagatno khancho'. He got inspiration to go towards the way of Bhakti from Saint Gokulnath. He shared his experience and knowledge in chhappa.The poetry writing style he followed for lending his philosophy in verse.

Akha Bhagat's Works:

Known Poems

Panchikiran (Mixture of five elements)
Akhegita (Gita by Akho)
Chittavichar Samvad (A Dialogue between Mind and Thought)
Gurushishya Samvad (A Dialogue between Teacher and a Pupil)
Anubhav Bindu (A Drop of Experience)
Brham Lila
Kevaly Gita
Santpriya
Akha na Chhappa
This page is based on the copyrighted Wikipedia Akha Bhagat; it is used under the Creative Commons Attribution-ShareAlike 3.0 Unported License. You may redistribute it, verbatim or modified, providing that you comply with the terms of the CC-BY-SA.
Verbal Whips
1.
Still applying tilak1 have turned fifty-three
and worn out are the holes of the rosary.
Exhausted are feet from pilgrimage
but not seen yet the Lord's visage.
Hearing religious discourses ears burst
Akha, received no enlightenment yet.

2.