Alan Dugan
Alan Dugan
(12 February 1923 - 3 September 2003 / New York City, New York)
Biography of Alan Dugan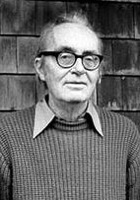 Alan Dugan was an American poet. His poetry is known for its plain and direct language, though it is supported by technical skill; it is generally trenchant and ironic in its criticism of American life and received ideas, and in its frank sensuality alike.

Dugan grew up in Jamaica, Queens in New York City and served in World War II, experiences which entered his poetry though he avoided simple autobiography or confession. He later lived in Truro on Cape Cod in Massachusetts, where he directed the Fine Arts Work Center and was a mentor and teacher to younger poets for decades.

Dugan's work was published in successive numbered collections under the simple title Poems.

Alan Dugan was married to the artist Judith Shahn. He died on September 3, 2003, of pneumonia at age 80.

Alan Dugan's Works:

Poems (1961)
Poems 2 (1963)
Poems 3 (1967)
Poems 4 (1974)
Poems Five: New and Collected Poems (1983)
Poems Six (1989)
Poems Seven: New and Complete Poetry (2001)
This page is based on the copyrighted Wikipedia Alan Dugan; it is used under the Creative Commons Attribution-ShareAlike 3.0 Unported License. You may redistribute it, verbatim or modified, providing that you comply with the terms of the CC-BY-SA.
Nomenclature
My mother never heard of Freud
and she decided as a little girl
that she would call her husband Dick
no matter what his first name was
and did. He called her Ditty. They
called me Bud, and our generic names
amused my analyst. That must, she said,
explain the crazy times I had in bed
and quoted Freud: "Life is pain."