Albert Durrant Watson
Biography of Albert Durrant Watson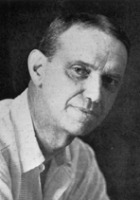 A doctor, astronomer, editor, poet and psychical researcher, Watson was born on 8 January 1859 in Dixie, Canada West (now Ontario), and was the son of William Youle Watson and Mary Ann Aldred. On 23 September 1885 he married Sarah Anne Grimshaw Clare (1861-1937), the daughter of Samuel Clare, in Toronto. They had seven children (two daughters and five sons). Watson died in Toronto on 3 May 1926.

He graduated from Victoria University, and Edinburgh University. He practiced medicine for more than thirty years in the city of Toronto.

He held a series of seances from 1918 to 1920 by medium Louis Benjamin.

Albert Durrant Watson's Works:

Poetry

"A Hymn for Canada", Canadian Medical Association Journal
The wing of the wild bird and other poems. William Briggs. 1908.
Love and the universe: The immortals, and other poems.... Macmillan. 1913.
Heart Of The Hills: Poems. 1917. reprint. Kessinger Publishing, LLC. 2007
Dream of God: A Poem (1922)
Woman: a poem. Ryerson Press. 1923.
Poetical works. Ryerson Press. 1924.

Anthologies
Bliss Carman, Lorne Pierce, ed. (1954). Canadian poetry in English. Ryerson Press.
Albert Durrant Watson, Lorne Pierce, ed. (1923). Our Canadian literature: representative prose & verse. Ryerson Press.

Psychic
The twentieth plane: a psychic revelation reported by Albert Durrant Watson. G. W. Jacobs & company. 1919.
Albert Durrant Watson, Louis Benjamin (1920).
This page is based on the copyrighted Wikipedia Albert Durrant Watson; it is used under the Creative Commons Attribution-ShareAlike 3.0 Unported License. You may redistribute it, verbatim or modified, providing that you comply with the terms of the CC-BY-SA.
The Lily
EMBLEM of beauty and sorrow,
Twine with each wistful to-morrow
The past with its memories teeming
And all its dear innocent dreaming.
Go thou, O Lily, and o'er her cast
The drifting breath of the wind-swept hills;
Sing her the music of forest rills;
Whisper a dream of the sacred past;
Lie on her heart till the angels wake