Albert Price
Albert Price
(12-14-1943 / Washington DC)
Biography of Albert Price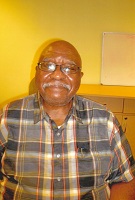 The reason that I write is to promote harmony and to uplift the spirits of humanity. My desire is to persuade others to elevate their thoughts and meditations toward the Eternal Creator.

The topics that I am challenged by are such things as beauty, romance, fertility, resurrection, nature, peace, spirituality, and eternity. And my greatest desire is that people enjoy my work-enough so that it impels the mind and releases or unclasps the soul.
Mobility Of The Sun
My Lord, you are the Poet,
Who notes me with thy strong hands.
I can only aspire to know it
And extend thy word to all known lands.

You have set in me for the sun
A tabernacle for his regal throne,
From which he arises for his daily run
Throughout heaven's every zone.