Aleksandra Szymanska
Biography of Aleksandra Szymanska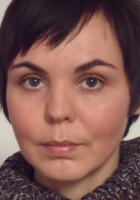 I started writing poems when I was eight years old - I grew up in poetic surroundings of a historical place at the west part of Poland which had imbued my imagination with its mystery...

I started writing in English (the international language) in 2006 when I won bronze in an international poetry contest organized by The International Library of Poetry based in U.S.A.

Since summer 2009 I've been having a huge problem with those who steal my artwork and accuse me of plagiarism.

Please do not break into my account and attach your pictures to my profile on this website...
This account is the way I look, walk, think, frown, laugh. This account is my age, my face features, my finger prints...my hands and feet...

Please do not share my poems on www.worldofpoets.com or any other website...

Aleksandra Szymanska's Works:

I self-published my very first novel in early spring 2007. In 2009 I edited my manuscript, found an agent which gave me a chance to published my story in a form of a feature movie, however certain individuals stood on my way, so I decided to save my hard work, donating it to a charity. In 2013 I found out the charity had never received my donation...
Tribute To Roy Batty...
Give me a handful of soundless seconds
and I'll kneel and kiss your feet...
My time won't cease to run, I reckon,
I can hear its clock, beat by beat...

The truth you speak is like cooing dove's tunes
please don't stop - your name shines in the sky...
Don't you know your home's got its own moons -
it spins round God's head, so far, so high...