Alexander Smith
Biography of Alexander Smith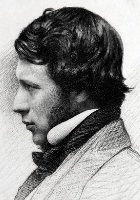 a Scottish poet, and labelled as one of the Spasmodic School.

Life and Works

He was born in a thatched house in Kilmarnock, in the Scottish Lowlands south-west of Glasgow, the first of several children. His father, John Smith, was a Lowlander who worked as a designer of lace, calico prints, paisley patterns, and muslins. His mother Christina Murray Smith was of Highland extraction and, together with a Highland servant girl, first introduced him to Gaelic songs and Scottish legends.

Being too poor to send him to college, his parents placed him in a linen factory in Glasgow to follow his father's trade of a pattern designer.

His early poems appeared in the Glasgow Citizen, in whose editor, James Hedderwick, he found a friend. A Life Drama and other Poems (1853) was a work of promise, ran through several editions, and gained Smith the appointment of secretary to Edinburgh University in 1854.

As a poet he was one of the leading representatives of what was called the "Spasmodic" School, now fallen into oblivion. Smith, P.J. Bailey and Sydney Dobell were satirized by W. E. Aytoun in 1854 in Firmilian: a Spasmodic Tragedy.

In the same year Sydney Dobell came to Edinburgh, and an acquaintanceship at once sprang up between the two, which resulted in their collaboration in a book of War Sonnets (1855), inspired by the Crimean War. He also published City Poems (1857) and Edwin of Northumbria Edwin of Deira (1861), a Northumbrian epic poem.

Although his early work A Life Drama was highly praised, his poetry was later less well thought of and he was ridiculed as being a Spasmodic. Smith turned his attention to prose, and published Dreamthorp: Essays written in the Country (1863) and A Summer in Skye (1865). He wrote two novels, Miss Dona M'Quarrie (18??), and his last work Alfred Hagart's Household (1866) which ran first through Good Words.

He died in Wardie, near Edinburgh. A memoir of Smith by P. P. Alexander was prefixed to a volume entitled Last Leaves. See also Brisbane's Early Years Of Alexander Smith (1869) (but be aware that Brisbane's is not a scholarly work and contains errors of fact).

Alexander Smith's Works:

A Life Drama and Other Poems (1853)
War Sonnets (with Sydney Dobell 1855)
City Poems (1857)
Edwin of Northumbria, Edwin of Deira (1861)
This page is based on the copyrighted Wikipedia Alexander Smith; it is used under the Creative Commons Attribution-ShareAlike 3.0 Unported License. You may redistribute it, verbatim or modified, providing that you comply with the terms of the CC-BY-SA.
Glasgow
SING, poet, 'tis a merry world;
That cottage smoke is rolled and curled
In sport, that every moss
Is happy, every inch of soil: -
Before me runs a road of toil
With my grave cut across.
Sing, trailing showers and breezy downs -
I know the tragic hearts of towns.