Alexander Zabalza
Alexander Zabalza
[The last angel] (20 / Mexico)
Biography of Alexander Zabalza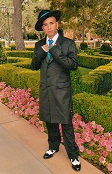 Hi my name is Alexande Zabalza (the last angel) i been writing seen i was 7 unfortunately i lost all my old poems in 2005 when i move las vegas. i stop writing for a long time because i had nothing to write about till i meet a girl name Heidy or as you read in my poems as my angel she was my first real love and the only person i trusted unfortunate i don't know if she still alive. i have only wrote poems for 3 girls rigth now my angel, my mom and my little red rose maybe in the future i will add on the list.

If you what to learn more about my story just msg me.

thank you for reading my poems and sorry for my spelling and grammer have a nice day/night to all of you.
Who Believes In Love
Who believes in love? Love is real or is love is fake If love is real why is there war in the world? Why are neighbor VS neighbors, friends VS FRIENDS, Family VS family, streets VS streets, and nations VS nation Spilling blood everyday or love is fake like the adults say we the teenager love with are eyes not with our hearts I ask myself have anybo