Alfred Comyn Lyall
Biography of Alfred Comyn Lyall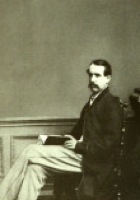 Sir Alfred Comyn Lyall was born on 4th January 1835, in Surrey, England. He was educated first at the prestigious Eton College and later at Haileybury College.

In 1856 he joined the Indian civil service and served in many capacities until his retirement in 1887. He also fought during the Mutiny of 1857-58 and was honoured for this. Subsequently he held a number of high-ranking roles including Commissioner of Nagpur, Commissioner of West Berar, the Governor-General's agent in Rajputana, and (from 1878 to 1881) Foreign Secretary to the Government of India. During this period he helped negotiate peace and a monarchy in Afghanistan.

Lyall returned to England in the 1887 and served on the India Council for four years. During his time both in India and England Lyall earned a number of honours.

Throughout his life Lyall also worked as a writer. As a biographer his chosen subjects were Warren Hastings and Lord Dufferin. As a historian he was acclaimed for his imaginative as well as philosophical insights into the course of Indian history. He also produced a number of volumes of poetry. These

literary achievements brought him advanced degrees, a D.C.L. from Oxford (1889) and an L.L.D. from Cambridge (1891), a fellowship at King's College Cambridge(1893), and membership in the British Academy (1902), among other honours.

He married Cora Cloete of Cape Town in 1863 and they had four children.

He died of a heart attack on April 10, 1911.

Awards

He was made a Knight Commander of the Order of the Indian Empire (KCIE) in 1887, Knight Commander of the Order of the Bath (KCB) in 1881 and Knight Grand Commander of the Order of the Indian Empire (GCIE) in 1896.

Literary

His Verses Written in India was published in 1889. He wrote a number of other books on poetry. He wrote also books on Indian history, Warren Hastings, and Alfred Lord Tennyson. His literary achievements brought him advanced degrees, a D.C.L. from Oxford (1889) and an LL.D. from Cambridge (1891), an Honorary Fellow of King's College, Cambridge (1893), and membership in the British Academy (1902).

A more comprehensive list of his known publications is given below:

Asiatic Studies, Religious and Social: First Series. (John Murray. London, 1882)
The Rise and Expansion of the British Dominion in India. (John Murray. London, 1893)
Warren Hastings (English Men of Action Series). (Macmillan & Co. London, 1889)
Verses Written in India. (Kegan Paul, Trench. London, 1889)
Asiatic Studies: Religious and Social in India, China & Asia: Second Series. (John Murray. London, 1899)
Tennyson (English Men of Letters series). (Macmillan & Co. London, 1902)
The Life of the Marquis of Dufferin and Ava, 2 vols. (John Murray. London, 1905)
Etudes sur les moeurs religieuses et socials de l'Extrême-Orient. (French translation of Asiatic Studies, First & Second Series: Fontemoing, Paris. 1907–1908)
Studies in Literature and History. (published posthumously by John Murray. London, 1915)

Alfred Comyn Lyall's Works:

Asiatic Studies, Religious and Social: First Series (1882)
The Rise and Expansion of the British Dominion in India (1893)
Warren Hastings (English Men of Action Series) (1889)
Verses Written in India (1889)
Asiatic Studies: Religious and Social in India, China & Asia: Second Series (1899)
Tennyson (English Men of Letters series) (1902)
The Life of the Marquis of Dufferin and Ava, 2 vols. (1905)
Studies in Literature and History. (1915)
This page is based on the copyrighted Wikipedia Alfred Comyn Lyall; it is used under the Creative Commons Attribution-ShareAlike 3.0 Unported License. You may redistribute it, verbatim or modified, providing that you comply with the terms of the CC-BY-SA.
Sîva
Mors Janua Vitae.


I am the God of the sensuous fire
That moulds all Nature in forms divine;
The symbols of death and of man's desire,
The springs of change in the world, are mine;
The organs of birth and the circlet of bones,
And the light loves carved on the temple stones.