Alice Notley
Biography of Alice Notley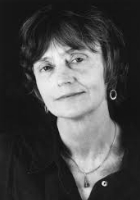 Alice Notley (born 8 November 1945) is an American poet.
She was born in Bisbee, Arizona and grew up in Needles, California. She received a B.A. from Barnard College in 1967 and an M.F.A. from the Iowa Writers' Workshop at the University of Iowa in 1969. In 1972, she married poet Ted Berrigan, with whom she was active in the Chicago poetry scene and with whom she had two sons. In the early 1970s, she became rooted in New York City's Lower East Side, where she was an important force from 1976 through 1992. After Berrigan died in 1983, Notley raised their two sons in New York's East Village by herself for several years while continuing to develop her poetry. In 1992, she moved to Paris with her second husband, the British poet Douglas Oliver (1937–2000). She lives in Paris currently, making several trips to the United States each year to give readings and teach writing classes.
Notley has earned a reputation as one of the most challenging and engaging poets at work today. Fiercely independent, she has never tried to be anything other than a poet, and all of her ancillary activities have been directed to that end.[citation needed] She is the author of over twenty-five books of poetry, and also the author of a book of essays on poets and poetry, Coming After.
Alice Notley was a finalist for the Pulitzer Prize, and winner of the Los Angeles Times Book Prize for Poetry. In spring 2001, she received an award from the American Academy of Arts and Letters and the Poetry Society of America's Shelley Memorial Award. She edited and wrote a new introduction to her late husband Ted Berrigan's The Sonnets (Penguin, 2000). Notley edited The Collected Poems of Ted Berrigan (UC, 2005) with her sons, the poets Anselm Berrigan and Edmund Berrigan.
On October 3, 2007, The Academy of American Poets announced its selection of Notley's Grave of Light: New and Selected Poems 1970–2005 for the Lenore Marshall Poetry Prize. In 1997, she was awarded a grant from the Foundation for Contemporary Arts Grants to Artists Award.
At Night The States
I forget them or I wish I was there
in that one under the
Stars. It smells like June in this night
so sweet like air.
I may have decided that the
States are not that tired
Or I have thought so. I have
thought that.
At night the states