Alison Hawthorne Deming
Biography of Alison Hawthorne Deming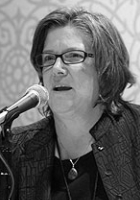 Alison Hawthorne Deming (b. 1946 Hartford, Connecticut) is an American poet, and essayist.
Deming is a descendant of Nathaniel Hawthorne. She worked in health care for fifteen years. She graduated in 1983 with a M.F.A. in Writing, from Vermont College, and was a Wallace Stegner Fellow at Stanford University. She was a Fellow at the Fine Arts Work Center, Provincetown, Massachusetts. She taught at the University of Southern Maine. In 1997, she was visiting Writer, at the University of Hawai'i. In 1999, she was Lecturer at Center for the American West.
She has taught at the University of Arizona since 1980. She lives near Aqua Caliente Hill in Tucson, Arizona. Her daughter is the artist Lucinda Bliss.
First Encounter Beach
One of the spectators is disappointed
there isn't a guide to explain
the beaching, the scientists busy
cutting into ninety-four pilot whales
stranded on the salt grass.
No one knows why and, try as the rescue team
might, not one whale will go back to water.
So they're injected to speed up the dying,