Alla Renee Bozarth
Alla Renee Bozarth
(Portland, Oregon)
Biography of Alla Renee Bozarth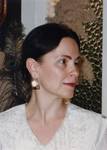 A Russian, Celtic, Osage American poet, Episcopal priest, soul caregiver who lives at the foot of Mt. Hood in Western Oregon and has published 20 prose and poetry books and 4 audio albums with 14 more large poetry collections,7 small books and 2 CDs ready for publication. Alla has written award winning poetry for over 40 years. Her poems are widely used all over the world, often in collaboration with visual artists, singers and dancers. For permission to reprint a poem, please send Alla your request using the 'message' feature on her PoemHunter page. See Alla's blog, Words and Images Welcoming Light in the Wilderness http: //allabozarthwordsandimages.blogspot.com/
and find links to all of her single theme blogs from this menu:
http: //www.blogger.com/profile/07163511991184059081

Alla Renee Bozarth's Works:

Lifelines: Threads of Grace through Seasons of Change; Wisdom and Wonderment: 31 Feasts to Nourish Your Soul; Life is Goodbye/Life is Hello: Grieving Well through All Kinds of Loss; A Journey through Grief; The Word's Body: An Incarnational Aesthetic of Interpretaion; Stars in Your Bones: Emerging Signposts on Our Spiritual Journeys; This Mortal Marriage: Poems of Love, Lament and Praise; Soulfire: Love Poems in Black and Gold; Six Days in St. Petersburg; The Book of Bliss, Accidental Wisdom; This is My Body: Praying for Earth, Prayers from the Heart; Moving to the Edge of the World; Readinig Out Loud to God (audio) : Water Women (audio) : Love's Prism: Reflections from the Heart of a Woman; At the Foot of the Mountain: Nature and the Art of Soul Healing. Out of print but perhaps on Internet: Gynergy, In the Name of the Bee & the Bear & the Butterfly, All Shall Be Well/All Shall Be One (audio) .
Belonging
The small plot of ground
on which you were born
cannot be expected
to stay forever
the same.

Earth changes,
and home
becomes different