Amber Smith
Biography of Amber Smith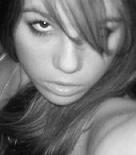 My name is Amber. I about to be 20 years old, I love poems, I see them as a way to express your hidden emotions! I live for today and whatever happens tommrow happens! Life is ment to live and I beleive taking it too seriously holds you back from truely living! I am a christian and believe that jesus did not die for us to waste away our lives! Art helps us with understanding and enlightens our souls! I plan on becoming an elemetary school teacher because to me they are one of the most influential people in a childs life...they teach children the basic knowledge that they need to survive in life!

I been through alot in my life and can easily see both sides of almost any situation!

All things happen for a reason and gods plans although sometimes seem twisted are in the end what will fullfill our lives! Fate And destiny run together but only take us so far its up to us to complete the journey it has lead us on!
My Love..My Star!
To fine out that you loved someone is amazing
But, to find out to late is dazing!
Confussion sets in, how can i act on this now!
Its to late you say, but you have to let them know!
Its refreshing to tell and maybe they might feel the same.
But for me it was a damn shame
I was too late even thou he still cares
But this pain is still hard to bare
So ill let it pass and try to let go