Amy Bond
Amy Bond
(Devon)
Biography of Amy Bond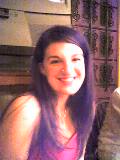 his wil be short and sweeeeeeeet...like me! plus i don't have much time! ! i'm dizzy twinkly pink fairy from devonshire...a little lost...far from home...and more than a bit crazy...i'm just on this pantomime of a rollercoaster we call life...sometimes feelin the rush of adrenaline...sometimes chucking up! picking up cool...scary...funny...humbling and sometimes down right strange peeps along the way! same as all u guys i guess! suppose i am searching for the rainbows. in the mundane world i go to uni - psychology and sociology! i'm applying to become a social worker/ probation officer. i've done quite qa bit of voluntary work with young offenders, prince's trust, citizen advice bureau etc. to keep me grounded i write poetry, well usually it writes itself. i like photography though profess to being not even amature stautus! i smoke too many rolly's, drink too much coffee and should really take out shares in the alcohol industry! i believe in the magic and wonder of life....and if i can give you all one piece of advice it's too look up....you'll notice buildings, views, stars and hundreeds of other magnificent things if you stop looking at the ground. and remember 'no lite est coborun dorum' don't let the bastards grind you down. YOU ARE A CHILD OF THE UNIVERSE NO LESS THAN THE TREES OR THE STARS AND YOU HAVE A RIGHT TO BE HERE.
Tear Tram Lines
This town has lost its sparkle,
The stars have lost their shine,
This town's too full of echoes,
And my face too full of lines.

The shore has lost its tide,
The waves have lost their rhyme,
This town's too full of tears,
And my smile too full of lines.