Andre Veilleux
Andre Veilleux
(September 23,1986 / Sudbury, Ontario, Canada)
Biography of Andre Veilleux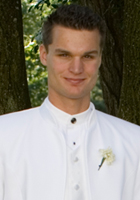 Currently a student at Laurentian University in Sudbury, Ontario, Canada. Majoring in history, with interests in philosophy and english. Poetry interests mainly include Bukowski, Milton, Housman, Allan Poe, McGough, Tolkien, Mulligan, although there are many more as well.
Missing Love
I miss the guilt of love,
It's warmth within my veins,
A gift seemingly from above,
The morophine for my pains,
The absense of such a comforting glove,
Makes one want to smash out his brains.